From Bike Manhattan comes news that a new bike club is starting up in the Manhattan, Kansas area:
Flint Hills Area Bike Club (FHAB Club) is holding its official kick-off Saturday, April 3, in Triangle Park, Aggieville. Members of the club will be on hand beginning at 10 a.m. to explain the club's mission, answer questions, and help new members join. At 12:45 p.m., members will lead rides for every ability and rider. So bring your bike, your helmet, your kids, your friends – get to know other folks who bike in Manhattan, Fort Riley, St. George, Wamego, and the rest of the Flint Hills, have some fun, and get some exercise.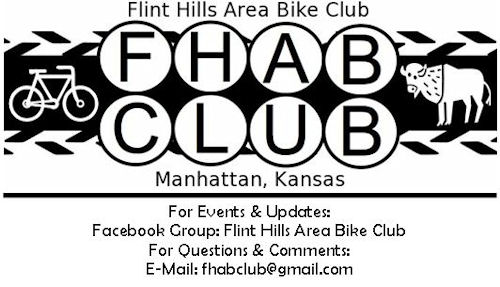 Read more at http://ci.manhattan.ks.us/index.aspx?NID=1070.
The Flint Hills Area Bike Club doesn't appear to have a web site yet, but they do have a Facebook group, or you can learn more about the club by emailing them at fhabclub@gmail.com.
Post tags: Bike Clubs, Manhattan