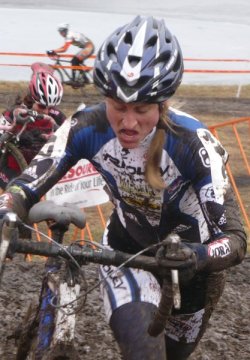 The highlight of the cyclocross season is finally here: the 2008 Cyclocross National Championships.
Nearly 1,800 riders are expected to descend on Tiffany Springs Park in Kansas City, Missouri, with the first of 38 races beginning on Thursday, December 11th at 9am. Races run throughout the day Thursday, Friday, Saturday, and Sunday, culminating with the Elite Women and Elite Men races on Sunday afternoon.
The defending Elite Men's champion is Tim Johnson of Middleton, MA. The defending Women's Elite champion is champion Katie Compton of Colorado Springs, CO.
Two local favorites will also be defending their championships: Steve Tilford of Topeka, KS in the Master Men 45-49 category, and Catherine Walberg, also of Topeka, in the Master Women 45-49 class.
Last year's Cyclocross National Championships, which were held at Wyandotte County Park in Kansas City, KS, were the subject of two feature films.
In "The Nine Ball Diaries", you ride along with road racing's golden boy, Tim Johnson, as he wraps up his day job and makes the transition to compete in his true love: Cyclocross. Follow Tim as he tackles the North American cyclocross circuit, kicking it all off under the lights in Las Vegas. Then watch as he battles through the rain and mud of the grueling USGP series, eventually claiming the National Championship title on a brutal, frozen course in Kansas City.
"Zero Traction" gives you the real feel of what it is like to experience hard-core cyclocross racing in extreme weather conditions including driving snow, mud, ice and frozen mud. The film features racing action shot in slow motion, allowing you to see details you never see with the naked eye. You'll also see interviews from Steve Tilford, Ned Overend and elite men's champion Tim Johnson. The film features action from 30 races cut to high energy music culminating with the exciting elite women's and men's championships.
Read more Nationals previews from:
Learn more about the 2008 Cyclocross National Championships: Race Schedule, Course, Expo, and Parking Maps, VeloNews, Cyclocross Nationals Party Schedule