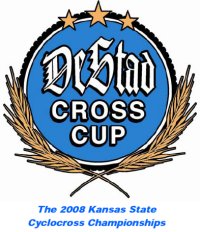 The Cow Town Cycling Team is proud to present the 2008 Kansas State Cyclocross Championships.
This year's De Stad Cross Cup has the the state championships on the historic campus of University of Saint Mary. A championship course has been designed using much of the natural 240 acres that the campus offers. "This is by far the sweetest course in the mid-west with sections of cobbles, natural run-ups, challenging sand, beautiful tree lined hillside and the 'mound of mercy'", says the Cross Guru. Spectators and racers will both enjoy the course as it offers plenty of opportunities to view the action.
Racing at the University of St. Mary campus begins Sunday, November 16th at 10:30 a.m. with the Category 3 / 4 men going off first. Ladies, don't forget that KCA is sponsoring the Category 4 women by supplementing your entry, which means you race for only $5. Races continue throughout the day with the Category Men 1/2/3 racing at 1:30 p.m. and the finale at 2:45 with the Juniors, Cat. 4 Women, and Masters B.
This is a great venue for spectating. As with all De Stad events, free food and drinks for all. Come have a bowl of chili on us!
In addition to the normal event awards for each class, Kansas State Championship medals will be awards to the top 3 Kansas residents in each class. The following classes have been added to this event for Kansas State Championships: Men's Master 30+, Men's Master 60+, Women's Master 35+ and Women's Master 45+.
So get your cross bikes ready to roll! There are categories for Men and Women from Pro to beginner with everything in between including the very popular Single Speed class.
See the event flyer for complete details, or visit kansascitycross.com for all the details.