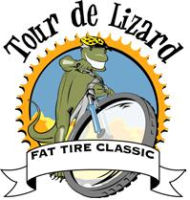 This Sunday, September 13th, is the annual Tour de Lizard Fat Tire Classic, a mountain bike race that takes place at Camp Horizon in Arkansas City, Kansas.
The race course is approximately 9 miles long, with over 1000 feet of climbing, and is 90% single track. There are flat and fast sections as well as wooded trails and rocky, technical trails. The energy sucking climb towards the end of each lap will slow even the strongest rider.
Racing starts on Sunday at 9am by category and age. The race runs rain or shine. Be sure to stick around after racing is complete for award presentation and a huge swag raffle drawing.
To whet your appetite for this weekend's action, here's a video from the 2007 Tour de Lizard:
You can head down early and make a weekend of it. The course is open to pre-ride all day Saturday, and that evening there is a free "Just For Fun" Fat Tire Competition, a log pull, a 50m mass sprint, a bike toss, a pre-ride scramble, and other bike-related activities, as well as great fellowship with your fellow racers and mountain biking enthusiasts.
Camp Horizon is one of the jewels of Kansas Mountain Biking, and if you haven't visited before, here's your chance to check it out for yourself.
Learn more at tourdelizard.com or register online.