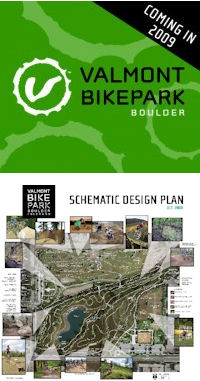 The Boulder Mountainbike Alliance, along with the City of Boulder Parks and Recreation and the International Mountain Biking Association, is planning a huge new multi-discipline cycling park to be located Boulder, Colorado.
Valmont Bike Park will consist of 40 acres containing a "vast array of trail networks, including epic single-track for the mountain biker, rhythmic pump tracks for BMX enthusiasts, and cyclocross circuits designed in the style of the best courses in Belgium."
The park, which is currently in the design stage, is scheduled to begin construction later this year.
The park recently received a $50,000 grant from the Dalbey Foundation, which will be used to add educational features to the bike park, to help children and families learn how to ride safely.
According to Dalbey Foundation spokesperson Susannah Christy, "The opportunity to invest in Valmont Bike Park was a natural fit for the Dalbey family. The project promotes everything they care about – families and children, education, health and fitness – in this case, promoting health and fitness through cycling. We are so excited to be part of this project and the opportunity to collaborate with the city of Boulder."
To date, the Boulder MountainBike Alliance has raised over $120,000 to help fund enhanced features and ongoing maintenance of the bike park.
Bikes Belong has also set up a $10,000 matching funds campaign. The drive runs through February 6th, and all personal and business donations made in that time will be matched up to $10,000.
"This is such an important project, and it will have a big impact on Boulder," said Elizabeth Train, grants director for Bikes Belong. "And it's a great model for folks to do this kind of thing nationally."
In addition, the city has allocated $800,000 to the bike portions of the park, and in March, the Parks and Recreation department will apply for a $200,000 grant from Great Outdoors Colorado, a state trust that helps projects like these.
Read more from the Daily Camera, or follow progress at the Valmont Bike Park Blog.