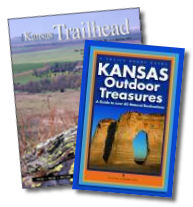 I don't usually write much about myself here at Kansas Cyclist — the focus of the site is on you, not me, and I have a blog for personal stuff — but in this case, I'll make an exception.
The following was written by Julie Cirlincuina, author of Kansas Outdoor Treasures, a 240-page paperback guide to outdoor recreation at natural areas, trails and scenic byways in Kansas. It covers 65 Natural Areas including 23 State Parks and 185 trails for hiking, biking and horseback riding.
Julie also publishes the Kansas Trailhead Newsletter, a quarterly electronic publication (with monthly updates) that features seasonal travel ideas, exposes undiscovered corners of Kansas and events that appeal to the outdoor enthusiast. She featured a short write-up on me in the February 2009 update:
Rasa's Road to Cycling

"I think Kansas has great potential to be a destination for cyclo-tourism," says Randy Rasa whose mission is to get people exploring the beauty and diversity of Kansas from a bicycle. A year ago, Rasa launched a website dedicated to this mission. The site, www.kansascyclist.com, extensively covers cycling in Kansas and neighboring states with directories of bike trails, bike clubs, shops and events.

When asked whether he is a mountain biker or road biker, Rasa says both. "I'm primarily a road biker, though the types of roads I like best are remote, rugged, scenic roads. My cycling progression has been kind of unusual. When I found my way back into biking a few years ago, putting pressure on my hands was painful due to Repetitive Stress Injury," he explains. "I purchased a recumbent but then realized that it didn't work very well for gravel roads or trails, so I bought a mountain bike. After learning to love the upright riding style, I purchased a road-touring bike. That sequence is backward from what most folks experience."

The road that Randy chose affords him experience in mountain biking and road biking. His directory of trails includes railtrails, mountain bike paths, gravel and paved roads. He also posts an extensive list of organized rides and events for both styles of biking. Even in the winter, cyclists are honing their craft and staying fit for the upcoming season. Kansas Cyclist posts an event aptly named the Blanket Race Series.

Randy Rasa lives in Olathe, but you may spot him on roads anywhere across the state. If you see him on the road, thank him for all he does to make Kansas look so good!
You can purchase both Kansas Outdoor Treasures and a subscription to the Kansas Trailhead Newsletter from Julie's web site, TrailsOfKansas.com. I've purchased both, and found them an extremely valuable resource for exploring Kansas.