Renniks Carrier Systems is located in Waverly, Nebraska and manufactures and sells an interesting line of bicycle carriers for all types of vehicles, called the "BikeTote".
They specialize in racks for pickups and SUVs, but also offer carriers for recreational vehicles (RVs) and even boats. The carriers come completely assembled and ready to use, and most require no drilling of holes to install, and none require maintenance.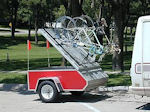 One product of theirs that caught my eye was the "Answer Trailer". This lightweight aluminum trailer can be towed behind a car or truck, and features a large cargo bay with a flat lid that contains a flat-top deck lid with racks for up to 4 bikes. It seems like this would be a good solution for a family camping trip, or for a racing team to carry all their gear and bikes to an event.
TV station KOLN in Lincoln recently did a piece on the company, and how the economic downturn is hurting the business:
While Rennik's sells directly to bike stores and over the Internet, most of its clients are from these states feeling the pinch of the economy and as a result, Rennik's sales numbers are taking a hit, especially Internet sales. "You really wouldn't think that bike racks would be affected but it is affecting us for a number of reasons," said the entrepreneur.

Skinner says a lot of people right now simply don't have the money to buy the products his company is selling. "You can get a long without a bike rack if you have to, so the economy is kind of hurting us in that area."

And although business has slowed, Skinner is not planning on closing up shop anytime soon. In fact, he's banking on past trends of tight economic times to turn business around. "Historically, when times get rough, people do go back to outdoor activities and activities close to home, like camping, bicycling and canoeing," said Skinner.
Read more: Economy Up-Hill Battle For Bicycle Company. There's also a short video interview with Gail Skinner, owner of the business.
Learn more about BikeTotes at biketote.com.
Post tags: Bike Racks