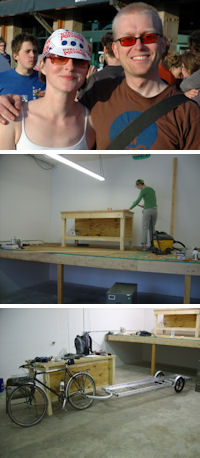 Cody and Steve are hoping to open a new bike shop, to be called 30th Century Bicycle, in Iowa City, Iowa in April. They've set up a blog where you can follow their progress, and watch the new shop take shape.
The shop will focus on bicycle commuters, which dovetails nicely with their own car-free lifestyle.
Here's what they have to say about their shop:
Our shop will be car free, and we have ordered a Bikes at Work trailer (the 8 footer, of course) to handle chores bigger than our cargo bike can handle.

Everyone we talk to about the bike shop wants to know what bikes we will carry. We are working on some relationships as we call them in the business, and when we know for sure we will share – we don't want to spread gossip. For now we are happy to have a Phil Wood account and QBP will of course handle a large portion of our day to day needs.

We have some renovating to do and we need to get the bikes and coffee and such together but feel free to stop in if you see us, we can't wait!
30th Century Bicycle will be located at 310 East Prentiss St. in Iowa City, near other local shops (charmingly referred to as Iowa City's "blinky light district").

Follow the bike shop launch at the 30th Century Bicycle blog.
Thanks to bikeiowa for the heads-up on this story. Photos courtesy 30th Century Bicycle.