Off Track Events, which organizes multiple outdoor events every year, is presenting the Pedaler's Jamboree on Memorial Day weekend in 2009. The event is Missouri's first bike-powered music and camping festival.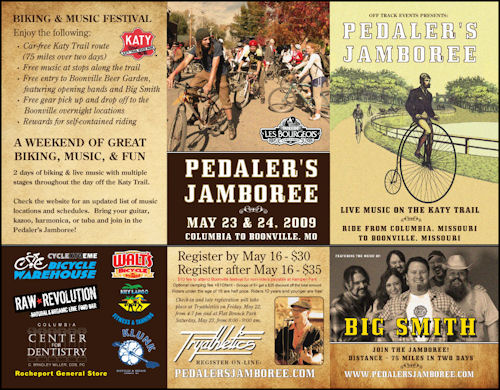 The family-friendly event will be May 23-24 and will take participants on a leisurely ride from Columbia to Boonville and back again over two days for a total of 75 miles. Along the way, riders will be treated to free music at numerous stops along the Katy Trail as well as a headlining performance by Big Smith at Kemper Park in Boonville.
Riders will depart from Flat Branch Park in Columbia on the morning of May 23. Upon check in, participants can drop off their overnight bags for separate transportation to Boonville. Once on the trail, riders will be able to stop at various locations, including Katyfish Katy's, Les Bourgeois, Rocheport General Store and Cooper's Landing for music, food and drinks before ending their first day in Boonville with the Big Smith performance and crazy bike show at Boonville's Kemper Park.
On May 24, riders will be able to depart Boonville at their leisure for the return ride to Columbia. Along the way, riders will again experience musical performances before ending their ride back at Flat Branch Park. The event promises to be a fun-filled outdoor adventure. For more information on schedules and performers, or to register, visit http://www.pedalersjamboree.com.
For additional information, contact Mike Denehy, director of Off Track Events, at 573.228.7476 or OffTrackEvents@gmail.com.