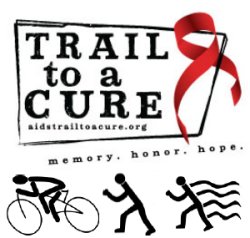 It's hard to surpass springtime on Missouri's Katy Trail, particularly near the historic and scenic town of Rocheport. You can enjoy beauty, and help to raise money for HIV/AIDS research and services in Mid-Missouri, on the Trail to a Cure, a ride/walk/run event that takes place on May 4th, starting at the Katy Trail State Park trailhead in Rocheport.
You can choose to ride from Rocheport to McBaine, a round-trip of 18 miles, or from Rocheport to Easley, a round-trip of 32 miles. There is also a 10K walk, a 10K run, and an 18-mile run. The starts for the various activities are staggered so that everyone gets back to the trailhead by about 2pm, where all participants can partake in a post-event celebration with their friends and family at the Les Bourgeois Winery.
The event is a fundraising benefit for two AIDS-related organizations: amfAR, the Foundation for AIDS Research, and Rain of Central Missouri. 100% of the funds raised by participants are passed along to the beneficiaries.
amfAR, the Foundation for AIDS Research, is one of the world's leading nonprofit organizations dedicated to the support of AIDS research, HIV prevention, treatment education, and the advocacy of sound AIDS-related public policy.
Rain of Central Missouri is the region's leading STD prevention resource focused on education, early detection and compassionate care facilitation. In addition to high quality education and prevention services, Rain offers compassionate case management to persons with HIV/STD and HCV in the form of counseling, physician referrals, housing, social services, nutritional planning, risk reduction counseling, and treatment adherence counseling.
The event is organized by Larry Horning, owner of the Trailside Cafe & Bike Shop, located right across the street from the trailhead in Rocheport.
Learn more: New AIDS Benefit in Missouri To Depend on Pedal Power from CampKC.com