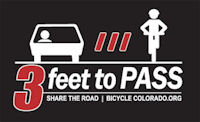 On August 5th, a new law went into effect in Colorado. The Bicycle Safety Act was a hard-won victory for Colorado bicyclists, and this common-sense bill should do much to improve bicycling on Colorado roadways. Here's a quick summary of the bill:
The law requires drivers to give cyclists at least 3 feet of space when passing or risk a $110 ticket.
Motorists are allowed to cross the centerline, when it's safe to do so, in order to pass bicyclists.
Bicyclists may ride up to two abreast when not impeding the normal and reasonable movement of traffic.
Bicyclists are to ride as far to the right of the roadway as is safe.
The bill makes throwing an object towards a bicyclist a class 2 misdemeanor and driving towards a bicyclist in a dangerous manner a careless driving offense.
The bill also makes it a class 1 petty offense for anyone to throw an object at or against any vehicle.
The new law brings Colorado up to par with at least 25 other states around the nation, including, in our region, Arkansas and Oklahoma, who already have 3-foot passing laws on the books. Alas, Kansas is lagging in this regard (as is Iowa, Missouri, and Nebraska).
The bill was a bipartisan effort on the part of state lawmakers to clarify the law regarding bicycling on public roadways. Despite a contentious debate, and the opposition of some members of law enforcement, who maintained that it may be difficult to enforce, the bill passed the Colorado house and senate earlier this year, and was signed into law by governor Bill Ritter in May.
One of the sponsors of the bill, Rep. Michael Merrifield of Colorado Springs, said "The bill codifies the common-sense behavior most drivers already show by giving cyclists a bit of room."
John Crandall, owner of Old Town Bike Shop in Colorado Springs, said "It will be impossible to perfectly enforce, but my hope is that it will create awareness among drivers that we are part of the mix, that we deserve a place on the road. Anything we can do to improve awareness, I'll be very grateful for."
Dan Grunig, the executive director of Bicycle Colorado, said "We're very excited to have the law go into effect. We believe it will make Colorado's roads safer for all users – whether they're bicyclists or motorists."
Congratulations to Colorado!
You can read additional coverage of the new law at Bicycle Colorado, TheDenverChannel, The Durango Telegraph, KKTV, Road.cc, Daily Camera. You can also read the full text of the bill here (PDF).
Post tags: 3-Foot Passing