This looks to be a really fun ride on April 3rd in Kansas City: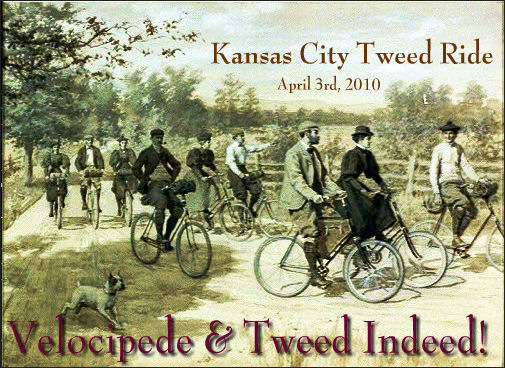 In the spirit of "The Golden Age of Bicycles" the Groody Bros. Bicycle Restoration Project cordially invites you to participate in the first annual Kansas City Tweed Ride – Velocipede & Tweed Indeed! Please join us on Saturday, April 3rd, 2010 at Loose Park in Kansas City, MO for an afternoon of sophisticated social revelry upon the most marvelous machines ever devised by man.

We will congregate under the shelter located at 52nd and Wornall Road at the hour of 12, with the ride to commence at approximately one o'clock. Dress in your finest turn of the century era wools, tweeds, silks and argyles*. Riders, and their machines, will have the opportunity to be judged and awarded prizes based on appearance, authenticity, originality, and creativity. Categories to include, but are not limited to:

Most Flattering Female Finery
Most Dashing & Debonair Male
Most Period Authentic Machine
Most Handsome Mustache (Masculinely Male)
Most Delicate Mustache (Fictitiously Female)
Most Intriguing Accessory upon a Person
Most Intriguing Accessory upon a Bicycle

Our route will pass through some of the finest and most elegant neighborhoods in the Kansas City area with regrouping locations allowing for fine refreshment. The length of our journey will be no greater than ten miles and at a speed of the most casual nature. This is about style not speed, elegance not exertion. This is to be considered a family affair to be enjoyed by the young and old alike. Light refreshments of tea and biscuits will be provided. We invite you to bring your own picnic fare to share.

While at the event you can expect to have your image captured in candid fashion by none other than world renowned urban cyclist photographer, Chris Thomas.

Another local artist of the brush and canvas variety, Kevin Nierman, whose works have graced the covers of such esteemed and prestigious publications as Dirt Rag Magazine and Bicycling Times has generously donated an original painting created just for this event. This work of art will be made available to one fortunate member of the general populous through a chance drawing. Raffle tickets will be available for a nominal donation on the day of the event. The proceeds will benefit a local youth cycling endeavor and assist to defray a portion of the event expenses.

Current sponsors include Groody Bros. Bicycle Restoration Project, Poindexter Recruiting, Boneshaker: A Bicycling Almanac, Kevin Nierman Graphic Design, Chris Thomas Photography, Chipman Creative Design, Family Bicycles, LLC, other sponsors still at large…

Contact us if you wish to volunteer, donate prizes or become a sponsor. Please feel free to direct your comments, suggestions and inquiries to TweedRideKC@gmail.com . Any and all R.S.V.P. to this address would be greatly appreciated so that we might properly prepare for the onslaught of participants.

This event does not include rider support by those infernal internal combustion machines. All riders should arrive with a bicycle in proper working order and be aware that their participation is purely and completely at their own risk. Riders are expected to observe and obey all rules of the road and behave in a dignified and civilized manor during the course of the event.

*The sporting of denim, spandex or lycra is to be highly discouraged. The organizers of this event consider these fabrics to be in exceedingly poor taste. The wearers of such apparel can expect to be openly scorned, chastised and run the risk of being "tarred and feathered" by an angry mob.
You can learn more about the event on their web site or Facebook event page.
"Tweed Rides" are popping up in cities all over. Here are a few more you may want to check out: Austin, TX, Boston, MA, Philadelphia, PA, Portland, OR, San Diego, CA, San Francisco, CA, Washington, DC, and many more around the world.