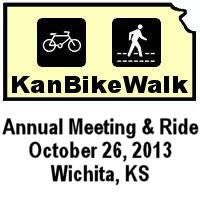 KanBikeWalk is holding their annual meeting on October 26th in Wichita, Kansas, and you're invited!
KanBikeWalk is a non-profit, statewide organization whose mission is to promote a safe bicycling and walking environment in Kansas. This important work needs your help and support, so if you'd like to be a part of making Kansas a better place to ride a bike, please attend.
According to the organization's meeting announcement:
In a change from past annual meetings, this year we will focus on setting a Vision for KanBikeWalk and its future for improving the culture of bicycling and walking in Kansas. KanBikeWalk will be 7 years old by the end of the year. Periodically every organization needs to take a fresh look at where they've been, where they are, where need to be going and how to get there. This meeting will be an opportunity for all to be a part of guiding KanBikeWalk over the next 7 years by setting a path for success to improve the health, transportation and recreation options for all Kansans.
In addition to the annual meeting, you're invited to join up for a casual-paced ride showcasing some of the bicycle environment of Wichita, including Downtown Wichita, parts of the Arkansas Riverfront and Old Town highlighting the Wichita's public art and history. The ride will be led by Bike Walk Wichita's Barry Carroll.
The ride will begin at 10am at Heartland Bicycle at 111 N Mosley. There is a group lunch at 11:30am at Heroes Bar & Grill, and the annual meeting begins at 1:30pm at the Wichita Central Library, Patio Room.
The ride and the meeting are free to attend; lunch is on your own. Snacks and drinks will be provided at the meeting, which is scheduled to run till about 4pm. RSVPs are requested, to president@kanbikewalk.com.
Post tags: Wichita