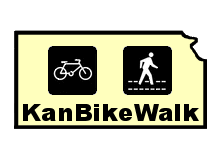 KanBikeWalk, a non-profit, statewide organization whose mission is to promote a safe bicycling and walking environment for Kansans through education and advocacy, is holding their first annual meeting on November 22nd.
As a 100% volunteer organization, KanBikeWalk is reaching out to the bicycle and walking communities, and asking for your support in helping to make Kansas a safe and friendly state to bicycle and walk in. Please join them!
The KanBikeWalk annual meeting takes place on Saturday, November 22nd, 2008 from 1:00-4:00 p.m. at the Clubhouse Inn (924 SW Henderson Rd., Topeka, Kansas 66615 (see map)).
In addition, prior to the meeting, KanBikeWalk has organized a Pre-Meeting Bicycle Ride. It starts on November 22nd at 10:00 a.m. from the Clubhouse Inn, and is a leisurely, no-drop, social ride that covers 18-20 miles through the city of Topeka, visiting the Governor's Mansion, downtown Topeka, and the Shunga Trail (see route map).
For more information about the KanBikeWalk annual meeting, visit KanBikeWalk.com.
If you're planning to attend the ride and/or the meeting, please RSVP to gksport@gmail.com.
Post tags: KanBikeWalk, Topeka