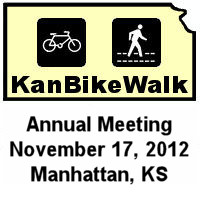 KanBikeWalk is holding their annual meeting on November 17th in Manhattan, Kansas, and you're invited!
KanBikeWalk is a non-profit, statewide organization whose mission is to promote a safe bicycling and walking environment in Kansas. This important work needs your help and support, so if you'd like to be a part of making Kansas a better place to ride a bike, please attend.
The annual meeting starts at 1:30pm and runs until about 4pm. It will take place at the Comfort Suites Meeting Room, 1020 Hostetler Drive, Manhattan, KS 66502.
KanBikeWalk is holding their annual meeting in Manhattan to honor the city's recent selection as a Bicycle Friendly Community by the League of American Bicyclists:
Prior to the meeting, Dan Scott of the Manhattan Bicycle Advisory Committee will be leading a group ride, starting at 10am from the Comfort Suites parking lot. The route will include a tour of some of the fine bicycling facilities in Manhattan, including the Linear Trail and the Moro Street Bicycle Boulevard (the first in the state!)
Both the bike ride and the annual meeting are free and open to all, whether you're a member of KanBikeWalk or not. RSVPs are requested, to president@kanbikewalk.com.
Learn more: KanBikeWalk 2012 Annual Meeting – Nov. 17 – Manhattan, KS
Post tags: KanBikeWalk, Manhattan, NewsBlog