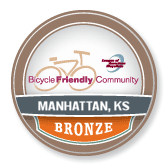 The League of American Bicyclists just announced their Spring 2012 honorees for Bicycle Friendly Communities program, and Kansas has just earned its third award!
Manhattan, Kansas earned the bronze-level Bicycle Friendly Community award, joining Lawrence and Shawnee (both at bronze level as well) as bicycle-friendly communities in the state of Kansas, along with Leawood on the "Honorable Mention" list.
There have been so many great bicycling things happening in Manhattan recently, and to have the good news capped off with the Bicycle Friendly Community designation is quite exciting. Congratulations to the Little Apple!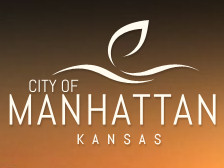 Momentum has been building in Manhattan over the last few years, leading to this designation. Some of the great things happening in the area include:
Elsewhere Around The Region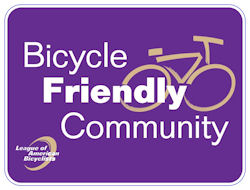 Manhattan is not the only community in the state or region to receive good news.
The bronze-level Bicycle Friendly Community designation for Lawrence, Kansas was renewed, as was the same award for Arvada CO. Colorado Springs CO stayed at silver, Durango CO moved up from silver to gold, and Longmont CO moved up from bronze to silver.
New to the list of Bicycle Friendly Communities are Aspen and Gunnison Colorado, both rated at silver, and Cedar Rapids IA, Lincoln NE, Summit City CO, and University Heights IA at bronze.
West Des Moines IA and Pueblo CO earned Honorable Mentions.
Read more from the League of American Bicyclists: Congratulations to New and Renewed Bicycle Friendly Communities! and see the full Spring 2012 list.
Post tags: Bicycle Friendly, Manhattan, NewsBlog