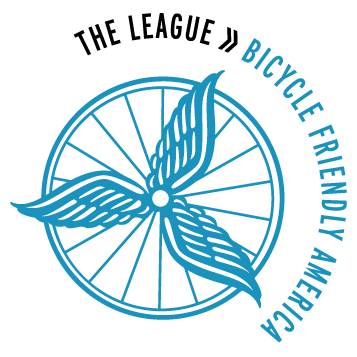 The League of American Bicyclists just announced their Spring 2016 honorees for Bicycle Friendly Communities program, and Kansas has earned its fourth award!
Topeka, Kansas was awarded the bronze-level Bicycle Friendly Community award, joining Lawrence, Manhattan, and Shawnee (all bronze) on the list of Bicycle Friendly Communities in Kansas.
In addition, Salina earned an Honorable Mention.
According to the League:
The BFC program is revolutionizing the way communities evaluate their quality of life, sustainability and transportation networks, while allowing them to benchmark their progress toward improving their bicycle-friendliness. The BFC award recognizes a community's commitment to improving conditions for bicycling through investment in bicycling promotion, education programs, infrastructure and pro-bicycling policies.

The BFC application process inspired the Bikeways Advisory Committee of Topeka, KS, to move forward on addressing some ordinances and policies within their city, which earned a Bronze designation this round. "Working on the BFC application and achieving the Bronze status has been a great experience for our community. After having our first Bikeways Plan adopted in 2012 with no allocated funds for implementation, we formed a Bikeways Advisory Committee and began the process of applying for BFC Bronze. The community is now on board and recently voted to fund full implementation of the complete Bikeways Plan in the coming years. Bicycle ridership is up, and the city has recently launched the most successful bikeshare program in the state. We also now have a Complete Streets review team that reviews all new roadway improvement. We will continue our relationship with League and anticipate this being the first step in obtaining our goal as a top bicycle community for both recreation and destination bicycling."
Learn more: Spring 2016 Awardees, All Bicycle Friendly Community Awardees
Post tags: Bicycle Friendly, Salina, Topeka