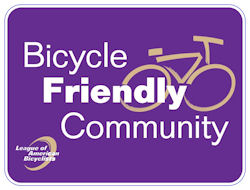 The League of American Bicyclists just announced their Fall 2011 honorees for Bicycle Friendly Communities, and a few new cities from our region have earned a coveted place on this prestigious list:
Conway, Arkansas – Bronze
Omaha, Nebraska – Bronze
In addition, Breckenridge, Colorado and Steamboat Spring, Colorado have moved up in the rankings, from Silver to Gold.
Leawood, Kansas made the "Honorable Mention" list, as did Dubuque IA, Erie CO, and Lee's Summit MO.
The Bicycle Friendly Communities program recognize communities for their efforts in promoting bicycling, and awards designations at four levels: Bronze, Silver, Gold, and Platinum (with Platinum being the most bicycle-friendly).
Congratulations to all the new Bicycle Friendly Communities!
Kansas currently has two Bicycle Friendly Communities, Lawrence and Shawnee, both at the Bronze level.
No Kansas businesses made the Fall 2011 Bicycle Friendly Business list, though companies and organizations from some of our neighboring states did so.
Read more from the League of American Bicyclists: Fall 2011 Bicycle Friendly Communities
Additional coverage: Iowa Bicycle Coalition, Missouri Bicycle Federation
Post tags: Bicycle Friendly