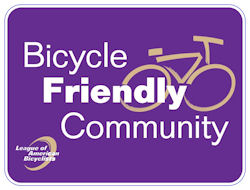 The League of American Bicyclists just announced their Fall 2009 honorees for Bicycle Friendly Communities, and a few new cities from our region have earned a coveted place on this prestigious list:
North Little Rock, Arkansas – Bronze
Breckenridge, Colorado – Silver
Iowa City, Iowa – Bronze
St. Louis, Missouri – Bronze
North Little Rock is the first city in Arkansas to be designated, and Iowa City and St. Louis are both the second in their states to be honored. Breckenridge is the 8th in Colorado.
Kansas is still sitting at two bicycle friendly communities — Lawrence and Shawnee — while Nebraska and Oklahoma each have one.
The Bicycle Friendly Communities program recognize communities for their efforts in promoting bicycling, and awards designations at four levels: Bronze, Silver, Gold, and Platinum (with Platinum being the most bicycle-friendly).
They join the existing regional member of this elite club:
Lawrence, KS – Bronze
Shawnee, KS – Bronze
Arvada, CO – Bronze
Boulder, CO – Platinum
Colorado Springs, CO – Silver
Denver, CO – Bronze
Durango, CO – Silver
Fort Collins, CO – Gold
Longmont, CO – Bronze
Steamboat Springs, CO – Silver
Cedar Falls, IA – Bronze
Columbia, MO – Silver
Tulsa, OK – Bronze
South Sioux City, NE – Bronze
Congratulations to all the new Bicycle Friendly Communities!
Read more from the League of American Bicyclists: Fall 2009 Bicycle Friendly Communities
Additional coverage: Iowa Bicycle Coalition, Missouri Bicycle Federation
Post tags: Bicycle Friendly