Allen County Kansas has won one of the nation's highest honors, the 2017 Robert Wood Johnson Foundation's Culture of Health prize. Building a bicycle-friendly community in a small rural area was a big part of that story.
Four years ago my wife and I moved from suburban Olathe to the small rural town of Iola. Part of our motivation was simply to transition to a simpler, more relaxed lifestyle, but a big part of the draw for me was the presence of the burgeoning Allen County trail system (the Prairie Spirit Trail and Southwind Rail Trail, at that time) and the community health advocacy organization Thrive Allen County, which had spearheaded the Southwind Rail Trail development, and was working on various healthy living and active transportation initiatives.
In my experience — covering bicycling news for Kansas Cyclist site and serving on the board for (the now-defunct) KanBikeWalk advocacy organization — what Thrive was doing in Allen County was simply extraordinary. There was no other rural county that had the energy, vision, and results that Allen County did, and Thrive was behind it all.
It was exciting to behold, and I wanted to be a part of it.
So how's it been? No regrets.
Living The Bike Life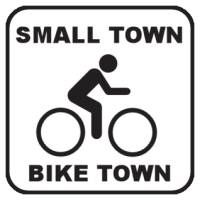 Residing in a small town, it's really easy to get around by bike. The comprehensive street grid means that there are multiple route options to any destination, and even the "busy" streets are safe to bike on.
Before the move, I'd asked the question "What is 'Bicycle Friendly'?", with the idea that many of the elements that are needed to mitigate the automobile-centric built environment in urban and suburban areas, such as bike lanes, are not needed as much in small towns. Local residents seem to get along well with bike traffic. That "more relaxed lifestyle" of small towns? Yes, that applies to drivers, too. It's extremely rare for me to feel pressured by cars. People are patient. Everybody gets along nicely. Not once have I been honked at or harassed or road-raged in Allen County.
I read quotes such as this, from Philadelphia: "'People get so angry with us, they talk about trying to get to work and a bike shouldn't be there; it should be on the sidewalk,' said Goldenberg, whose daily commute to Old City is fraught with near misses, profane shouts and honking horns." … and it feels like it comes from a different universe. That sort of attitude, that sort of high-stress battle for street space, while you're only trying to travel from place to place, is just unimaginable here.
Bike-Friendly Improvements
Just in these last four years, there has been rather amazing list of bike-related happenings in Allen County:
Sharrows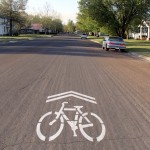 Shortly after I arrived in Iola, sharrows were added to a few streets, and that's worked out fine. Nationally, sharrows don't get much love or respect, and yes, I get that in many contexts they are totally inadequate. But correctly installed in appropriate settings, where they act to raise awareness among both drivers and cyclists, on streets that are already bikeable, they are very welcome. I like and appreciate the ones in Iola.
Mo-Pac Trail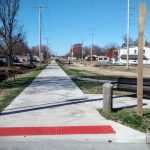 The Missouri Pacific Recreational Trail was added near downtown. It's not long, but it connects places that people want to go.
It's ironic, given the name, but I think the trail is used more for transportation than recreation. I tend to use it in one form or another on nearly every trip downtown.
National Bike Challenge
In 2014, the National Bike Challenge was embraced by Allen County. In a county of 13,000 or so, nearly a hundred people participated. That may not sound like a lot, but that participation rate was higher than anywhere else in Kansas.
Our local challenge was #1 in Kansas and #3 in the entire USA. Iola was the bikingest city of its size in Kansas, and number nine in the nation.
Bike Allen County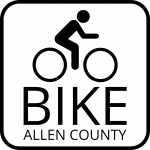 Thrive launched an initiative called Bike Allen County, which not only helps visitors find their way around the county, but hopefully inspires and informs residents, to continue building that local cycling culture.
Lehigh Portland Trails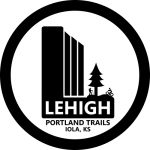 Also in 2014, a new trail project was launched, and it was a big one. Building on previous rail-trail efforts, this project sought to add mountain biking trails, something that did not exist at all in Allen County. I was recruited to help with the project, and despite not being much of a mountain biker myself, and never having built singletrack, I ended up being the lead designer and builder of what became the Lehigh Portland Trails system, which officially opened in 2016. It's a trail system unlike any other in the state. Personally, it's been very gratifying to work on, and ultimately to share the trail with visitors and see their reactions. I'm still building out the trails there, and it's a great joy to continue to have the opportunity to "play in the woods" whenever I want.
Bike Events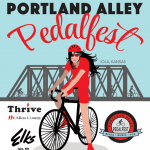 Creating bike events is an area where we've had some hits and misses. Our weekly rides started small, but have been growing each year, and are now becoming a real force in building that local cycling culture. Our big annual event, the Portland Alley Pedalfest, seemed like a really good concept (Bikes! Music! Beer!), but hasn't really caught fire yet, and is on hiatus for 2017. We have plans for mountain bike races and gravel rides, but haven't announced anything concrete yet.
Regionally, southeast Kansas is light on biking events. A South East Kansas Cyclists group has been organized to help address that, and I think we're poised to see some big things happen in the next few years, but we're not there yet.
Complete Streets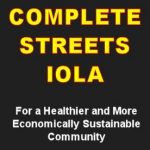 In 2016, Iola joined the Complete Streets movement, becoming the first small rural town in Kansas to do so.
While we've not yet seen on-the-street results from this resolution (because Iola hasn't done any new road work), this is an important indicator of the changing mindset among local leaders — beginning to see bicycling as not just a recreational thing, but as a crucial part of the entire transportation system.
Local Bike Shop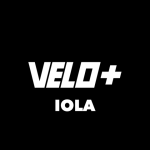 If you live in a large metro area, having a local bike shop may not seem like that big of a deal, but for a small town, it's pretty significant. It's an indicator that bicycling is not just about health and recreation, but bicycling is an economic force as well.
In 2017, after years of trail-building, community organizing, advocacy, and policy change, Allen County finally got a local bike shop, when Velo + Iola opened on the downtown square in Iola. Having a real bike shop is important because it becomes a focal point for a lot of local initiatives. In addition to providing a place to buy quality bikes and receive professional maintenance and service, the shop becomes a resource for local rides and local trails, and because Velo+ has a big presence in the Kansas City metro, they help to spread the word about all the good things happening in Allen County.
Bike Share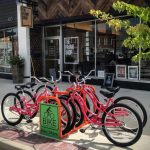 Thrive also launched Allen County Bike Share in 2017, an innovative approach to a bicycle sharing program in a small rural town.
Unlike large metro bike share schemes such as the excellent Kansas City B-Cycle, Topeka Metro Bikes, and Bike Share ICT in Wichita, the Allen County Bike Share uses a distributed "bike library" model, more appropriate to the culture in rural America.
And the interesting thing is, I really see these bikes being used a lot, by ordinary people, both for recreation and transportation. It's very encouraging.
Building a Culture of Health
Since I arrived in Iola, I've been heavily involved with Thrive Allen County, first as a volunteer, then joining the board of directors in 2015, even filling in for a few months as a grant writer in 2016.
In my work with Thrive, I've continued to be impressed with what amazing things are being accomplished here. The previous list of bike-related projects and initiatives should be impressive enough, but that's only a small part of what Thrive does. Thrive works on every aspect of personal and community health—economic development, health insurance, health education, active living, healthy foods, preventative medicine, mental health, poverty, transportation—the list goes on and on. The breadth of their work is breathtaking, and all done at an extremely high level.
In 2014, Thrive Allen County was recognized as the Kansas Organizational Health Champion for its exemplary contributions to fitness in Kansas.
And now, we're getting national acclaim. Allen County has been awarded the Culture of Health Prize from the Robert Wood Johnson Foundation, the nation's largest health philanthropy. The prize is based on our efforts to improve the health of our community, and the work we're doing here is becoming a model for the nation, particularly rural communities.
This is a big deal, and Allen County's work on bicycling, trails, and active transportation was a big part of earning this recognition, and will remain a big part of our strategy going forward. Thrive's vision of Allen County as the healthiest rural county in Kansas depends on it.
It's not easy and it's not quick. Culture change is hard. But it is necessary.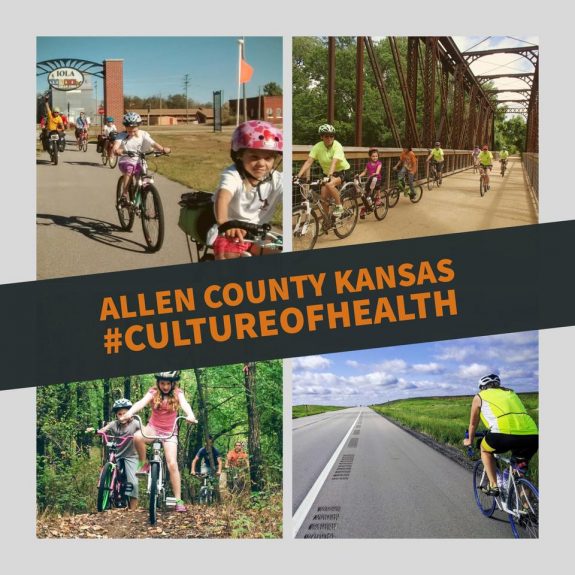 I'm terribly proud of my Allen County community, and especially, of Thrive Allen County. Their vision and work ethic is just incredible. I'm honored to be a part of it.
Here is a video that the Robert Wood Johnson Foundation put together about Allen County:
And here are two pieces I wrote for the Thrive web site, explaining Allen County's Journey to a Culture of Health and What A Story We Have To Tell.
Post tags: Bicycle Friendly, Iola