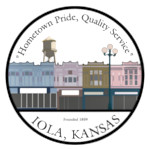 After 30+ years in Johnson County and the Kansas City metro area, my wife and I have decided to make a move. For the last year or so, we've been planning to downsize, and looking for a smaller community, one that's more bikeable and walkable than suburban Johnson County.
The community we have chosen is Iola, Kansas.
But before I get to the whys and what-fors, let me explain that title…
The "Portland" Connection
Over the last decade, Portland has become a mecca for bicycling in the United States, the one city that all others look up to, and aspire to be. The name "Portland" is deeply resonant, evoking a place where riding a bike has become mainstream, a simple everyday activity for a wide swath of the populace. So a cyclist planning to move to Portland shouldn't come as a surprise.
But I'm not moving to Oregon. I'm staying right here in Kansas.
Iola is in a region of the state known as "Portland Alley", once home to one of the most productive Portland Cement industries in the nation, due to ready access to raw materials such as limestone and shale, and plentiful supplies of natural gas, which was used to fire the kilns. Iola was home to the Kansas Portland Cement Company, maker of the "Sunflower" Brand of Portland Cement, and later the Lehigh Portland Cement Company. The nearby communities of Humboldt and Chanute still have cement factories, and the three towns are collectively known as "Portland Alley".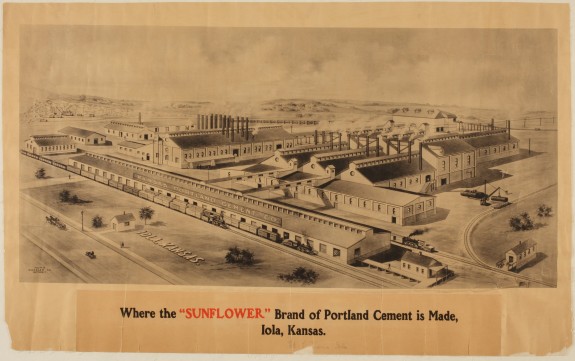 So that explains the "Portland" connection, which is kind of interesting, but why did we really choose Iola?
Bikeable By Design
Iola is a small rural town of about 5,700 people, situated along the Neosho River in southeast Kansas, approximately equidistant from Kansas City, Topeka, Wichita, and Joplin. It is the county seat of Allen County, and is located at the intersection of US-54 and US-169 highways.
The town features (as do many small towns) a strong traditional street grid. This is important, because it means that there are numerous possible routes between any two points, unlike the later suburban development model, which is built on a hierarchy of residential, collector, and arterial roadways, and which funnels almost all traffic to a few wide high-speed routes, an approach optimized for motor vehicle traffic, but strongly detrimental to bicycle and pedestrian traffic.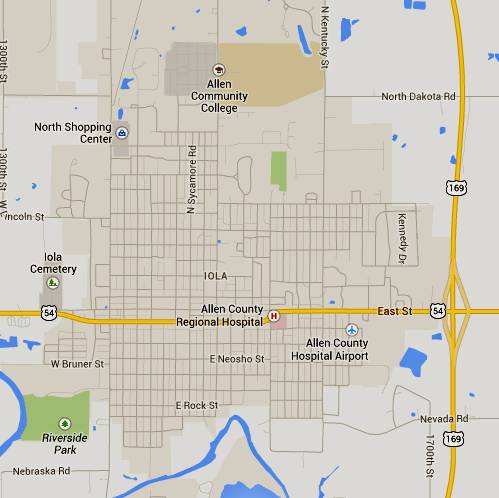 In other words, Iola is, by design, pretty bike/ped friendly, without any special accommodations.
Which is a good thing, because the city has very few special accommodations — there are sidewalks and crosswalks for pedestrians, but no bike lanes, sharrows, or bicycle boulevards.
US-54 and old 169 (now State Street) are 4-lane through much of the town, but every other roadway is two lanes, and traffic levels are very moderate. There's also a fine network of alleyways through much of the town, which offer a great way to bypass any street traffic or take a shortcut.
Trail Connections
Iola also has some rather amazing trail connections for a town its size. The Prairie Spirit Trail connected to Iola in 2008, and the Southwind Rail Trail opened just this year, with the MoPac Trail currently being developed. With the Western Sky Trail planned from Chanute to Fredonia (and ultimately further west), the vision of an interconnected trail network in Kansas is coming closer and closer.
As it sits, I'll have about 75 miles of trail at my doorstep (about 7 on the Southwind Rail Trail, about 51 on the Prairie Spirit Trail, and about 17 on the Flint Hills Nature Trail, which connects to the Prairie Spirit Trail in Ottawa). Once the remainder of the FHNT comes online, and connects to the Landon Nature Trail, I'll have an uninterrupted trail corridor of over 200 miles, connecting to Topeka and (almost) Kansas City. That's pretty cool!
Iola also had east-west rail lines, roughly paralleling US-54, connecting to Fort Scott in the east, and Yates Center and beyond in the west, but unfortunately, these were all abandoned long before rail-banking was an option, and so have been lost forever, which is a great shame.
Of course, I like to ride more than trails, and I'm very excited about the prospect of exploring a whole new region. There will be hundreds of miles of low-traffic paved roads to ride, and many hundreds more of gravel roads to get lost on. Bike-camping options look pretty promising, too, with numerous destinations (state parks, state fishing lakes, city lakes, etc.) within an easy day ride. It's going to be so much fun!
This map shows what's within a 50, 75, and 100-mile radius of Iola: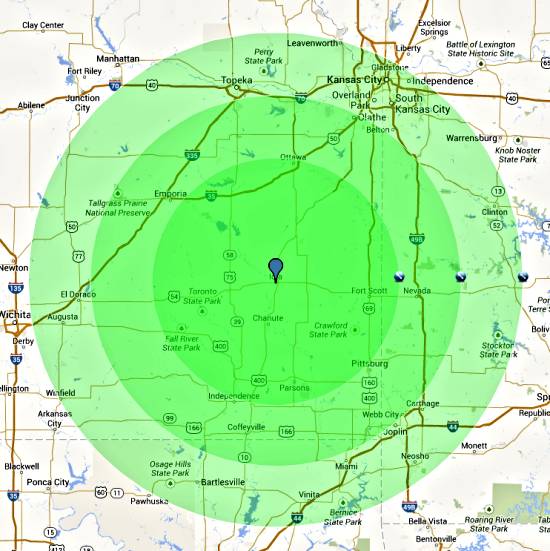 Both the Flint Hills and the Ozarks are within easy touring distance. Iola is on the RAAM (Race Across America) route (US-54), and is just a few miles off the TransAmerica Bicycle Trail route (which goes through Chanute). Judging by online cyclotourist journals, Iola seems to be a fairly frequent overnight town for bicycle travelers.
On the other hand, there are no bike shops in town (or even within 50 miles), so that could be a challenge. And there are no mountain biking trails nearby (that I'm aware of). There are few, if any, cycling events in the immediate area.
But there is a small cycling community already in place in Iola, and that's a nice plus. A group holds weekly trail rides (Finding Fun in Iola on Two Wheels), and I joined them recently to ride the Southwind Rail Trail to Humboldt and back: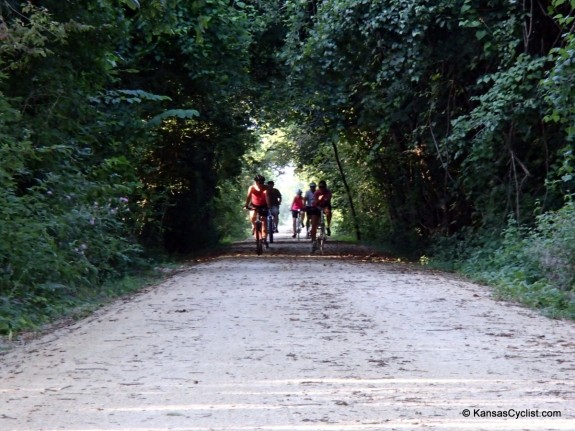 There were eight of us on the ride, and more joined us afterwards at Cofachique Park for a potluck dinner and socializing. How cool is that?
And there appears to be a robust commuter bike culture, at least among some segments of the population: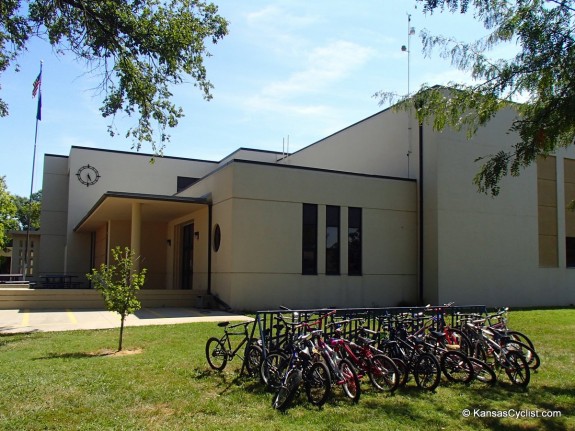 But seriously, each time I've visited Iola, I've seen people biking and walking around town, not just for exercise, but apparently as part of their regular lives. Even my wife, who's not as focused on bike/ped issues as I am, noticed and commented on it. OK, some of those were riding on sidewalks, even in the absence of cars, or, in one case, riding the wrong way on a street, but still, I find that encouraging.
A Progressive Community
One of the other attractions of Iola, for me, is the progressive and pragmatic attitude that I've observed over the last few years.
Thrive Allen County has been a real catalyst for change in the community, working on all sorts of issues to improve health, physical activity, and livability. When I approached Thrive's Executive Director, David Toland, two years ago, about updating some obsolete bike laws, he jumped right on it, and got the statutes changed, with the help and cooperation of the police and city council. That was very impressive.
The Southwind Rail Trail is another example, with Allen County becoming the first county in Kansas to actively partner with trail group volunteers to build, manage and maintain a trail corridor. And what volunteers! Clark Coan, with Sunflower Rail-Trails Conservancy, said that "no rail-trail project in Kansas has been completed this fast, and it is a remarkable feat", and I think that's true. There seems to be significant community buy-in as well, which is significant.
Check out this welcome packet from the Iola Chamber of Commerce: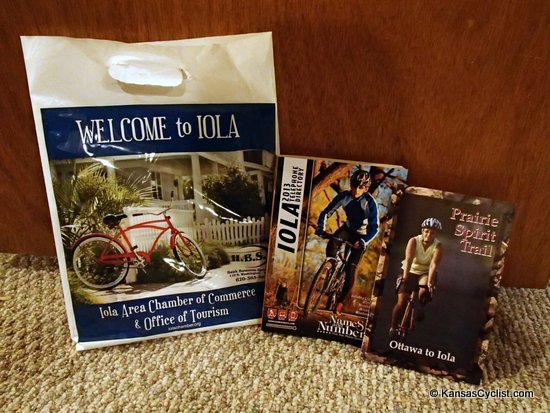 How could I possible resist that spot-on marketing?
More than Biking
There are other attractions for us in Iola as well, beyond the bicycling opportunities. There is a very impressive community theater and arts center (the Bowlus Fine Arts Center), a fine library, a brand new hospital is being built, there's a large downtown square in which nearly every building is occupied (unlike the "ghost town" appearance of too many historic downtowns in Kansas), and there are several antique stores / flea markets in town (a big draw for my wife, who deals in vintage estate jewelry). There's a community college, a community garden, a farmer's market, nice parks, good fishing opportunities, and excellent tennis and pickleball (I want to try that!) courts.
Of course, it's not all sweetness and light. There are problems. Iola is a one-grocery town, and that grocery is Walmart. And Walmart is poorly located, out beyond the edge of town, rather than in a more walkable location. Similarly, the hospital is moving from a great central location to a new campus in an unpopulated area. There's not a huge selection of restaurants. The population has been trending downward. Good-paying jobs may be hard to find, if it comes to that.
Allen County has been ranked at one of the least-healthy counties in the state (heck, the entirety of southeast Kansas ranks pretty low). In general, it's a relatively poor and unhealthy/obese/inactive part of the state, though Thrive is helping to change that. Their vision is that Allen County will be "the healthiest rural county in Kansas", and that's an effort I can get on board with.
But on balance, I think the positives will outweigh the negatives, for us.
Looking Ahead
We have a contract on a house, and expect to make the move sometime this fall. It's going to be a lot of work preparing for the move, and getting our current home cleaned up and ready for sale, so don't be surprised if updates on Kansas Cyclist are a little thinner than normal, for awhile.
We're a little sad to be leaving our home of nearly three decades, but we're excited about the move, and I'm looking forward to exploring a new part of Kansas by bike!
So expect to see frequent mentions of Iola over the coming months, as I settle in and discover the pluses and minuses of biking in small-town Kansas.
"Portland"? No. But perhaps a small step in that direction…
Post tags: Bicycle Friendly, Iola, Southwind Rail Trail