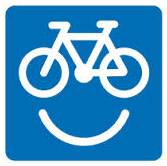 Upon hearing that my wife and I were moving to a small Kansas town, some of my friends were surprised at our choice, assuming that if I moved, it would have been to a more bike-friendly city.
And I'll admit, a town like Iola is not the kind of place that most people think about when they hear the phrase "bicycle friendly community".
Indeed, I'm not sure if a town as small as Iola has ever been designated a Bicycle Friendly Community by the League of American Bicyclists, since the League typically focuses on infrastructure investments (bike lanes and such) and special education or advocacy programs, and such things are less likely to exist in a small town.
But let me ask you this: Which is more "bicycle friendly", a community, such as Iola, where it's rather easy to get around by bike (due to short distances, a robust street grid, and low traffic volumes), or a larger city where bike lanes and other infrastructure have been added to help compensate for a built environment that's been optimized almost exclusively for maximum motor vehicle traffic throughput?
Obviously, both types of situations can be bike-friendly, under the right circumstances.
But with this move, I'm gambling that Iola, with almost no on-street bicycling-specific infrastructure, will be a relatively easy place to use a bike for daily transportation. Indeed, I expect to be able to walk or bike for nearly all my day-to-day travel — shopping, errands, business, recreation — and only use the car for out-of-town trips, carrying huge loads, or in dangerous weather.
(Ironically, I may end up driving more — perhaps fewer trips, but more miles — due to greater distances to visit family and to get to "the city".)
If this concept proves correct, I'm not sure of the significance, on a larger scale.
To benefit the greatest number of people, bicycle friendliness initiatives almost have to be targeted at larger communities. And, given that the cores of most cities are grids (and are hence somewhat bikeable and walkable as-is, albeit all-too-often chopped up by freeways and high-speed through roads), the suburban areas are really where the most effort is needed, and also where the most difficult (and expensive) engineering solutions are needed … and the greatest attitudinal shift would be required.
But I wonder: Since there are so many small towns, and many of them are already relatively bike-friendly (or at least not overtly bicycle-hostile), is that somewhere we (as cycling advocates) should be focusing attention?
The Rails-to-Trails Conservancy published a report last year that sort of focused on this idea:
Whether it's the economic impact of a tourist destination trail network, or the vital importance of transportation options in population centers without significant public transit, walking and biking are truly woven into the fabric of rural life.

Yet there has long been an assumption that walking and biking are strictly "big city" phenomena–and that rural Americans can't benefit substantially from investment in bicycling and pedestrian infrastructure. It is an assumption a number of elected officials–including many who represent rural areas- have used to argue against spending money on sidewalks, bike paths and trails in their communities.

But RTC's important new analysis tells a much different story.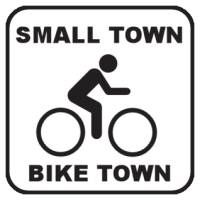 Is a small-town bicycle-friendly movement a possibility?
It certainly seems possible. One significant factor is that, in a smaller community, it may be much less daunting to "move the needle" than it is in a larger city. That is, just a few more people biking is a much larger statistical swing among a smaller population than among a larger population.
Anyway, these are some of the ideas I hope to be ruminating on over the next few years, as I find out for myself how easy it is to use a bicycle for everyday transportation in a small rural Kansas town.
See also: Active Transportation Beyond Urban Centers: Walking and Bicycling in Small Towns and Rural America and Principles for Improving Transportation Options in Rural and Small Town Communities
Post tags: Bicycle Friendly, Iola