With Federal stimulus funds available, Kansas City, Missouri has a chance to transform itself and move toward its stated goal of becoming a bicycle-friendly community. But they have a long way to go, and its not clear whether city leaders have the vision and strength of will to make it happen.
Kansas City, Missouri Mayor Mark Funkhouser comments on the bicycle-friendliness of his city:
"We haven't made an effort to be bike friendly, and we're not," says Funkhouser, who calls Kansas City one of the least bike-friendly cities in the country.

And the stats agree with him. In 2007, the U.S. Census Bureau counted just fifty people who commuted to work every day on a bicycle in Kansas City. But Mayor Funkhouser says that no one has ever even really tried to come up with a plan to fix that problem.

"What there have been grand plans for is the Power and Light District. And there's the Power and Light District. There have been grand plans for the Sprint Center. And there's the Sprint Center. There have been grand plans for stuff like that, but I don't think that bicycling has ever been on the radar screen," says Funkhouser.

But Mayor Funkhouser is confident that he can change that. He wants Kansas City to become a platinum-rated bicycle city by 2020. That's the highest rating given by the League of American Bicyclists. That means, for starters, Kansas City would have to install more bike lanes, more off-street bike trails, and a whole lot more bicycle racks.

"If we're going to make this a green city, we're going to have to be more bicycle-friendly. I've seen cities in Europe where at the train station there are thousands of bicycles on racks. That's where we're going someday," says Funkhouser.
"This is the least bike friendly place I've ever been to or even seen. I'm flabbergasted about how behind the times Kansas City is with being non-automobile transportation friendly," says Ben Clayman, who bikes about five miles to work nearly every day.
Kansas City's Bicycle and Pedestrian Coordinator, Deb Ridgway (who we interviewed on Episode 3 of the Kansas Cyclist Podcast), said "We just have never installed things like bike lanes and bike route signs and all the things that help to encourage people to show that this is a good place to bike and walk."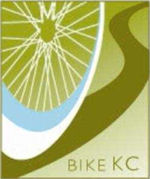 The Kansas City Star recently wrote (in Put KC on the path to a greener, healthier future) that "Federal stimulus funds are creating opportunities for cities to transform themselves with alternative transportation. Few cities need transforming more than Kansas City. The City Council should seize an opportunity presented to its transportation committee Thursday to move forward with an ambitious plan of new bike and pedestrian lanes, paths and routes."
Kansas City's Bike Plan, calls for 200 miles of on-street bike routes and an additional 50 miles of off-street bike paths by 2012, but the bike plan is competing with other local transportation projects for a limited amount of federal stimulus dollars.
And that is the issue that has always prevented Kansas City from becoming more bike friendly. In a town that loves big SUV's, bikes have always been considered something of an afterthought. But Mayor Funkhouser insists that bikes are one of his top priorities. "For short trips of two or three miles to the grocery store, we ought not be firing up the SUV."
Read more from Kansas City's public radio station, KCUR: Bicyclists Aim to Make Kansas City More Bike Friendly They also have an audio version of the story, which you can listen to on their site. KCBike.info has addition coverage: Federal stimulus money could fund huge advancement in KC bike/ped program. See also: Kansas City's Platinum Vision.
Post tags: Bicycle Friendly