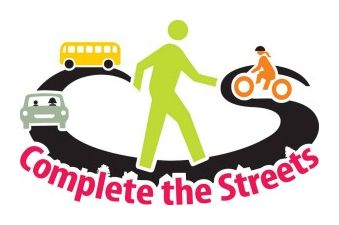 The Iola City Council has passed a Complete Streets Policy, approving the policy by a unanimous vote.
Iola becomes the 9th city in Kansas to enact a Complete Streets policy, joining Hutchison (2012), Kansas City Kansas (2011), Lawrence (2012), Leawood (2011), Overland Park (2012), Roeland Park (2011), Topeka (2009), and Wichita (2014). One county (Johnson County, 2011) and one Metropolitan Planning Organization (Lawrence-Douglas County MPO, 2011) have also passed Complete Streets policies.
Iola's Complete Streets Evolution
Iola has been building towards this for quite some time. Recent street projects have begun to include sidewalks and curb cuts as a matter of course, and within the last few years the city has added nearly two miles of sharrowed bike routes, over half a mile of new sidewalk connecting trails to shopping, a HAWK traffic signal on the Prairie Spirit Trail, and enhanced pedestrian-friendly crosswalks downtown and near schools. All this in addition to adding over 20 miles of new off-road trails in Allen County over the last decade.
So this new Complete Streets Policy, in reality, merely put into writing the standards and practices that the city was already following voluntarily. From that historical perspective, it was an easy sell, which the city council vote reflected.
Even so, there was some pushback from city staff regarding some of the specifics of the policy. For instance, the original proposal called for an ordinance rather than a resolution (a resolution says "we intend to do this", whereas an ordinance says "we shall do this"). An ordinance would have made for a stronger policy, but the city staff was understandably wary of over-committing the city to future unfunded spending.
In Iola, the Complete Streets Policy conversation was initiated by Thrive Allen County, a local non-profit organization that works to improve health and livability. Thrive's vision is that Allen County will be the healthiest rural county in Kansas, and this policy is a significant milepost along that long and winding road.
You can read Thrive's story here: Iola Adopts Complete Streets Policy
Fresh Energy
Significantly, Iola is by far the smallest and most rural of the communities to embrace Complete Streets, perhaps signalling a start of a much larger wave of communities that embrace the Complete Streets precepts of designing and building their roadways to provide safe transportation for people walking, biking, and driving.
Although Iola is the first small rural town in Kansas to join the Complete Streets movement, it's hardly the first nationally. There are small towns all across the nation who've successfully implemented Complete Streets policies. The National Complete Streets Coalition notes that:
A Complete Streets approach can provide a more effective and balanced transportation system for the nearly 49 million Americans who live in rural areas and small towns. The need for Complete Streets in rural areas and small towns is clear because so many of them have adopted policies.

Access to jobs, groceries, healthcare, education, and other destinations is just as vital in rural communities as in suburban or urban areas. Complete Streets are important in helping town centers and Main Streets thrive, too, by improving street connectivity and allowing everyone, whether on foot, bike, or public transportation, to reach community focal points. Creating Complete Streets can facilitate reinvestment and economic development in the heart of a small town.
Let's hope that Iola's new Complete Streets Policy does indeed provide some fresh energy to the Complete Streets movement in Kansas, and inspires other small towns, of which there are many, to take their own steps towards safer and more sustainable transportation infrastructure.
Post tags: Complete Streets, Iola