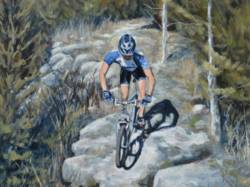 Fancy Creek State Park is located just north of Manhattan, along the western shore of 12,500-acre Tuttle Creek Reservoir. The facilities at the 372-acre park include camping, a boat ramp, picnic shelters, and a mountain biking and hiking trail.
The Fancy Creek Mountain Bike Trail features 4.3 miles of trail winding through dense cedar forest and open native grassland, running along rocky ridges with scenic overlooks along the way. This trail is one of the best and most unique in Kansas. The trail is an intermediate to advanced trail. There are a few sections that very few riders, even the most experienced, can ride cleanly. There are also sections that beginners will find challenging, but ridable. This is a trail for everybody.
The topography and the plant life along the trail are very unique to the area. The trail is very rocky on the upper sections with mostly cedar trees. The lower sections are mostly deciduous trees and grass with many small creek crossings. While riding this trail you will pass through rocky coniferous forests, ridge running trails, grassland, deciduous forests, and back again. There are many flowing sections separated with technical parts and many switchbacks. Many areas offer great views of the surrounding hills, plains, and Tuttle Creek Lake.
An initial descent leads you to a technical rock garden that lasts a few hundred yards to a road crossing, use caution approaching. An intense climb awaits you after the crossing. Following the climb, get your high gears ready for fast single-track through the next half-mile. If you are ready for a short break, a covered resting spot with picnic tables will be on the right. Then cross the bridge and dig in for a few long grueling climbs. Shortly after the road, beware of old trail intersections. At the forks, stay to the left and at the intersection, go straight. Over the next mile, enjoy the fast paced single-track, but keep those hands on your brake levers and watch out for technical sections with large rocks. In the rock garden before the 2.5 mile mark, beware of the "Derailleur Killer" or more specifically a channel made of solid rock with a boulder in the middle. If your legs have turned to jelly, feel free to take a break, you're at the half-way point. More long climbs through wooded areas await you. When you come to the third road crossing, you've almost made it to the finish line. However, an 8 story climb lies between you and the end. Stop for the view at the overlook, we won't tell your friends the real reason. Then it's all down hill to the finish line.