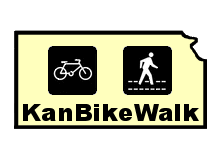 Attention Kansas Cyclists, Runners & Hikers!
KanBikeWalk, your new statewide bicycling, walking and running advocacy organization, has been notified of a special year-end opportunity. Along with a generous donation, The Johnson County Bicycle Club has offered to match membership donations between now and the end of the year. Your donation now will be immediately matched 100%, meaning more funds for KanBikeWalk to promote and advocate for safer roads and infrastructure throughout all of Kansas for you. Please respond soon to take full advantage of the opportunity to double your donation by mailing your membership donation before December 31, 2008 to:
KanBikeWalk, Inc.
5932 E 93rd North
Valley Center, KS 67147
KanBikeWalk Membership Levels: Individual: $25, Family: $40, Club: $50, Business: $50, Corporate Silver: $250, Corporate Gold: $500. All membership fees and donations are tax-deductible
KanBikeWalk is a non-profit, statewide organization whose mission is to promote a safe bicycling and walking environment for Kansans through education and advocacy. KanBikeWalk advocates for bicycle and pedestrian issues with the goal of making Kansas a premier bicycling and walking state through improved safety/education programs and infrastructure improvements at the local and state level.
As a 100% volunteer organization, KanBikeWalk is reaching out to you as a member of the bicycle and walking community. We all walk and bicycle for transportation, recreation, tourism, sport and/or exercise. We need your help to make Kansas a safe and friendly state to bicycle and walk in. Please join us!
KanBikeWalk would like to thank the Johnson County Bicycle Club for its generous donation/challenge grant and take this opportunity to challenge all bicycle, walking and running clubs and businesses within Kansas to consider supporting KanBikeWalk through your membership, donation and involvement. The sooner we all speak with one united voice, the sooner we can all make Kansas at truly great bicycling, walking and running place to live and visit.
Sincerely,
Gina Poertner, President
KanBikeWalk
www.kanbikewalk.com
Post tags: KanBikeWalk