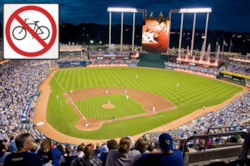 With a new baseball season looming, I was thinking about making a trip into Kansas City to catch a Royals game, but wondered about the logistics of bicycle parking at Kauffman Stadium.
I checked the team's web site, but their parking page says nothing about bicycles.
So I wrote to the team and asked. Here's the response I got back from the Royals:
At Kauffman stadium we do not have bike racks or areas where you can lock your bike. With that being said we recommend that you do not bring your bike as there would be no place to securely put your bike.
Frankly, I was a little surprised that they didn't prohibit bicycles entirely, but they certainly don't do anything to make it safe or convenient for their cyclist customers.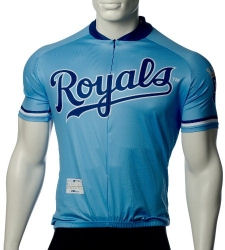 I followed this up with a phone call to the stadium, and they confirmed that there are no bike racks at Kauffman or anywhere on the sports complex. Although bicycles are not prohibited, any bicycles locked to a tree, fence, railing or other fixture will have their locks cut, and the bike will be impounded. A $10 parking fee applies to get into the sports complex.
There may be parking options nearby, where a cyclist could presumably park their bicycle and then walk to the stadium, but the Royals cannot provide any details about those options, if they exist.
There used to be a bus service called the "Royals Express", but that has been discontinued.
So, if you want to ride your bike to Kauffman Stadium, your options are pretty limited…
How does this compare to other major league stadiums around the country? Here's a quick look at the some of the teams that do support their bicycling fans, to varying degrees:
It'd be nice if the Royals (and Chiefs) made at least a minimal effort to make their stadiums more bike-friendly.
Sounds like a good opportunity for a "Bike Day at the K", with folks from community organizations providing a bike corral/valet parking, and some sort of a group ride to navigate the busy streets around the stadiums.
Anyone volunteer to coordinate this with the Royals?
See also: Kansas City Royals Cycling Jersey
*******
Update, April 2013: The Royals contacted me via their official Twitter account (@Royals) to let me know that the bicycle parking policy has changed at Kauffman Stadium: "Bikes are permitted during Royals games. Ride over to Lot B to lock up your bike on the media fence. No charge. We checked with our parking/fan experience group and that is the current policy." Thank you, Royals!
Post tags: Bike Racks