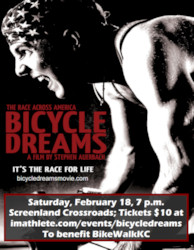 Bicycle Dreams, the award-winning feature-length documentary about the Race Across America (RAAM), will premiere in Kansas City at the Screenland Crossroads Theatre on Saturday, February 18 at 7 p.m. The screening is sponsored as a benefit for BikeWalkKC.
The film, which has won numerous awards at film festivals all over the world, "is an up-close look at what RAAM riders go through," says Stephen Auerbach, the director and producer of Bicycle Dreams. "They deal with searing desert heat, agonizing mountain climbs, and endless stretches of open road. And they do it all while battling extreme exhaustion and sleep deprivation. It's a great subject for a film."
To capture the mammoth scope of the race, Auerbach worked around the clock with a complement of 18 cameras. Embedded camera operators traveled inside the racers' support crew vehicles, gaining unprecedented access to the cyclists and their teams. Their footage captured emotional and physical breakdowns, late-night strategy sessions, and great moments of personal triumph, all in intimate detail. Auerbach then took on the enormous task of editing hundreds of hours of material and forming it into a powerful and inspiring look inside the most difficult race on the planet.
Bicycle Dreams also has been named one of the top 10 adventure films of all time by both The
Matador Network and Playground Magazine, calling it the best bicycle film since "Breaking
Away."
You can learn more about the film at bicycledreamsmovie.com, and by viewing the following trailer:
Tickets are $11 in advance and $15 at the door the night of the show. To purchase advance
tickets, order online.
The screening is at the Screenland Theater in the Crossroads, 1656 Washington Street, Kansas City, MO 64108. Doors open at 6:00 p.m. for drinks and a silent auction, the movie plays at 7:00 p.m., and is followed by a Q&Q session with local RAAM riders Dan Jordan and Gary Del Nero.