The city of Valley Center, Kansas is holding an open house on Tuesday, February 19th to present their draft Pedestrian and Bicycle Facilities Master Plan.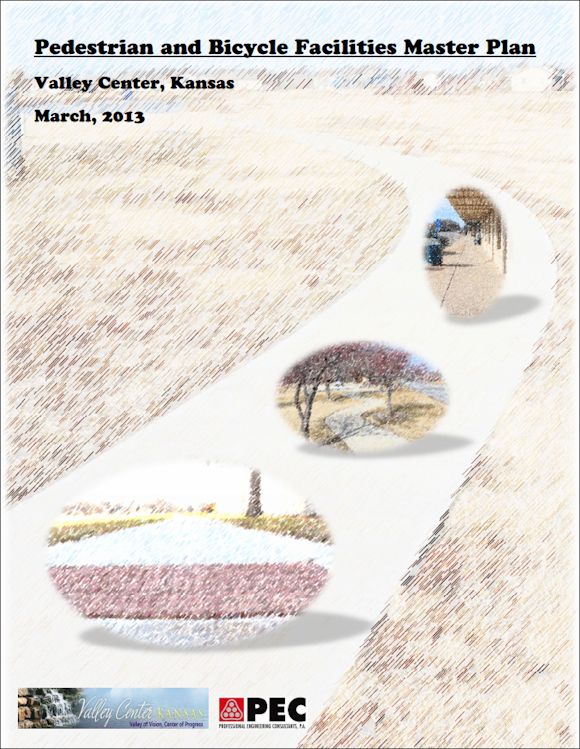 The Pedestrian and Bicycle Facilities Master Plan document is dated "March 2013", but that is presumably anticipatory, for when the plan will be presented to the city council.
According the to the plan:
Providing choice in how to travel throughout Valley Center is a priority. Residents desire the opportunity to walk or bike to get to school, work, shopping, and other destinations. The Pedestrian and Bicycle Facilities Master Plan focuses on providing safe and efficient connections throughout Valley Center. The Plan identifies priority corridors for pedestrian and bicycle facilities. It also recommends changes to codes and regulations to ingrain the priority of providing opportunities to walk and bike.

The population of Valley Center is growing, as is the proportion of the population that cannot drive. The young and old often rely on alternative modes of transportation because they cannot drive. Safe and convenient walking and biking options can provide this growing population a means of getting around Valley Center and maintain independence.

The Plan focuses on developing a pedestrian and bicycle network that makes connections to major destinations. Connecting our homes to schools, employment centers, shopping, parks, recreation, places of worship, and community services will offer a true alternative means of transportation throughout Valley Center.
Valley Center currently has 14.5 miles of sidewalks, but no on-street bicycle facilities or off-street trails.
Valley Center is a fast-growing little city, increasing in population from 4,883 in 2000 to 6,822 in 2010. As of the most recent American Community Survey, 93.3% of the populations used personal vehicles to travel to work, while 1.9% walked to work, and no one biked to work. However, 19% of the people who drove had a commute of less than 10 minutes, and as the plan notes, these "are prime candidates for walking or biking trips", if the travel conditions were safe and comfortable.
The plan recommends 21.6 additional miles of future facilities, but does not recommend specific facility types, though it anticipates that they will be a mixture of on-street facilities (bike lanes, buffered bike lanes, or sharrows) and off-street paths or sidewalks.
The plan also calls for updates to the city's municipal code and zoning regulations, to encourage (and in some cases, perhaps, require) that bike/ped facilities be built as a matter of course, rather than an afterthought.
If you live in or near Valley Center, please consider attending the open house at City Hall, 121 S Meridian, Valley Center, KS 67147. The open house runs from 6-7pm on Tuesday, February 19, 2013. The city council meeting begins at 7pm, if you wish to speak up for or against the plan.
The Pedestrian and Bicycle Facilities Master Plan was drafted by Professional Engineering Consultants in Wichita, with input from local leaders, including the Wichita Area Metropolitan Planning Organization (WAMPO).
Post tags: NewsBlog, Valley Center