Olathe, Kansas is planning to expand 127th Street in Olathe, but has settled on a strange, and potentially dangerous design with a gutter seam running down the middle of the 'bike lane'.
Back in 2010, the city of Olathe, Kansas added some very nice bike lanes to 127th Street, between Mur-Len Road and Black Bob Road, with another mile of bike lanes, between Black Bob Road and Pflumm Road, due to be built in 2014.
The good news is, the schedule has been accelerated, with work on the project for the next mile slated to begin this year.
The bad news is, Olathe has dropped the bike lanes from the design. Sort of.
The new design calls for a "shoulder" to be striped along each side of the roadway, with 2 feet of pavement to the right of the outer stripe, along with a foot-and-a-half of gutter pan.
That leaves the gutter seam — the joint between the roadway surface and the concrete curb — almost exactly in the center of the shoulder.
This shoulder area does not meet national standards for bike lanes, and Olathe is not planning to designate the area as a bike lane, through either on-pavement symbols, or signage.
But the implication is pretty clear: That's where bicyclists will be expected to ride.
You can bet that if cyclists rightly avoid this hazardous area, and ride in the shared-traffic lane, that someone will come along and yell "Get in the bike lane!"
If it looks like a bike lane, motorists are going to expect bicyclists to ride there, regardless of whether or not it's an "official" bike lane…
How Bad Can It Be?
Olathe promises to maintain the gutter seam so that it does not deteriorate and become a hazard, but I thought it would be enlightening to see how the city has maintained other gutter seams on its streets: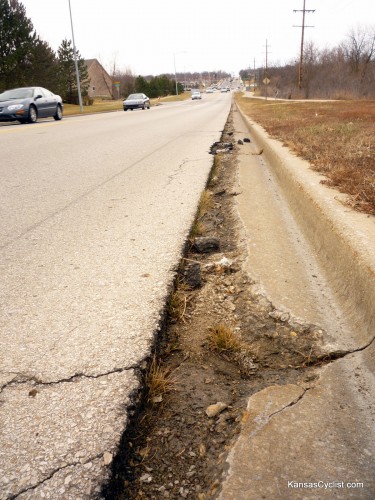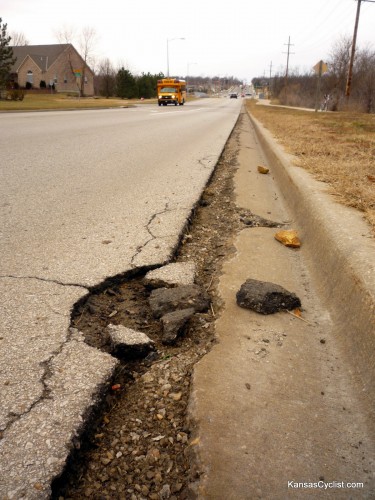 This lovely gutter seam is on (ironically) 127th Street, in the exact same area where the new roadway will be constructed.
Would you feel comfortable riding your bicycle inches from this gutter seam? Do you consider this safe?
This is an example of how Olathe currently maintains its streets — should we expect better on the new roadway?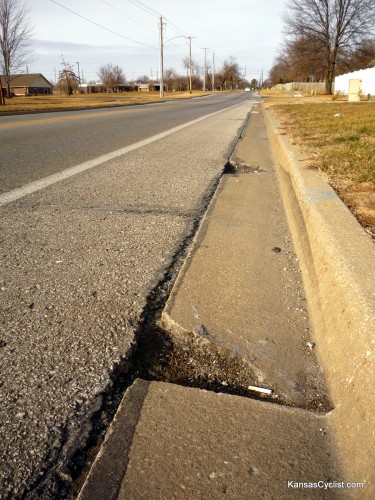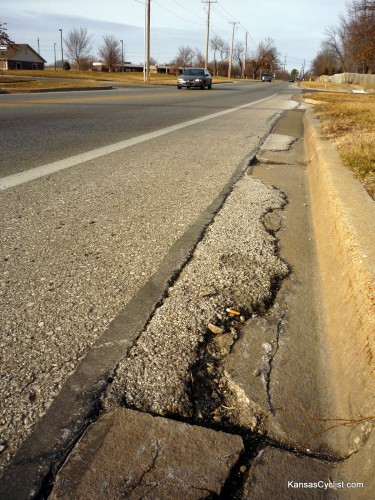 These examples are from Ridgeview Road in Olathe. It is in a designated bike lane, and over time the gutter seam has deteriorated and become hazardous. Olathe has attempted to patch the holes, without much success. But, since the bike lane is at least 4 feet in width beyond the gutter seam, it's not nearly the danger it would be if the "bike lane" were only 2 feet wide.
However, if Olathe takes this level of care in existing bike lane gutter seams, why should we expect the new "bike lanes" to be any better maintained?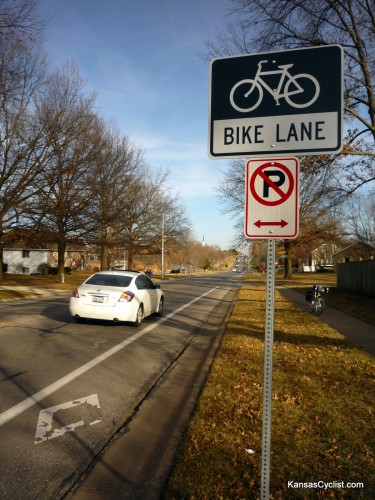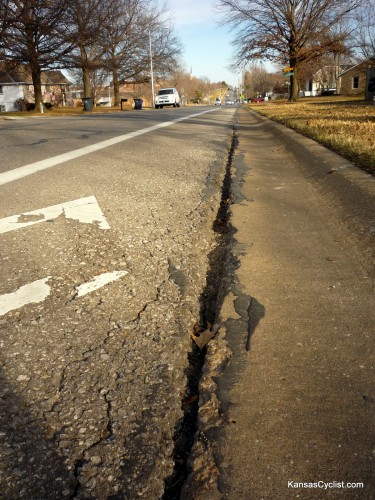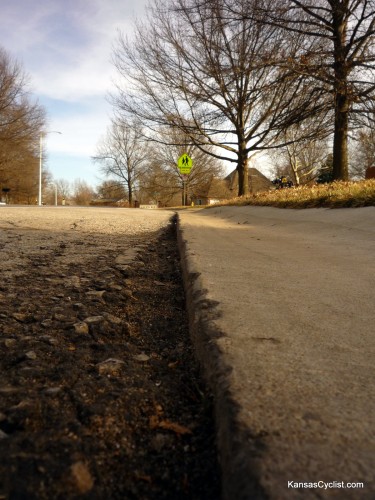 And finally, here's another example of a gutter seam in a designated bike lane, this one on 143rd Street in Olathe.
The widening crack is a perfect wheel-catcher. Surprised no one has been injured yet.
Why Is This Important?
127th Street is one of the few east-west arterial roads in the area that are still reasonably bike-friendly. 111th, 119th, 135th, and 151st are high-speed roads that carry heavy traffic. 143rd is the nearest road with bike lanes along part of its length, but that is two miles away, a long detour for bicycle commuters to be forced to take every day.
127th Street already has bike lanes on most of its length in Olathe, and when the new 127th Street bridge over I-35 opened a few years ago, the city made a big show of its bicycle-friendly features. And cyclists have responded, making 127th Street a well-used east-west bike route, at least as far as BlackBob Road, where it becomes a less-friendly two-lane road.
This mile of road between BlackBob and Pflumm could become another popular bike route, connecting to hundreds of homes, as well as to Olathe East High School, and beyond that, to the University of Kansas Edwards Campus.
Dropping the bike lanes on this new section of road way will either push cyclists onto more-dangerous sidepaths, or convince them to leave their bikes at home and take their cars, to contribute to ever-worsening congestion, noise pollution, and air pollution.
What Can Be Done?
Full, standard-width bike lanes had been promised to the public when the city presented the project to the community several years ago. Now they've reneged on that promise, and their attempted compromise has created a potentially dangerous situation.
BikeWalkKC has taken up the cause, and they have a page on their site, Support Bike Lanes on 127th Street, where you can compose an email message to Olathe officials.
There is also an Olathe Complete Streets Forum coming up on February 6th, 6:30pm at the Olathe Public Library, 12990 S. Black Bob Rd.:
Would you like safer and more accessible places to walk and bicycle in Olathe?How about more options for getting to work, school, church, or the store? If you live, work, or play in Olathe, please join us for an open discussion about making the city even better for walking and bicycling.
This is a great opportunity to not only tell the city how important Complete Streets are to you, but how you feel about the proposed design of 127th Street, why real bike lanes are needed, and why the currently design is not only inadequate, but dangerous for cyclists.
You can learn more about the 127th Street Project at improve127th.com and the City of Olathe.
Post tags: Bike Lanes, Olathe