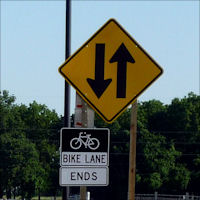 Sometimes, I wonder how important bike lanes are in the day-to-day business of getting around by bicycle.
Many of the roads I ride don't have bike lanes or paved shoulders, and it's generally not a problem. If a bike lane is available, I'll use it, but it's not necessary — I'll ride pretty much any road required to get me to my destination, riding with traffic, sharing the road.
But I had an interesting experience the other day that perhaps highlights what the presence or absence of a bike lane can mean.
I was riding north through Olathe on Woodland Road, a two-lane street with a bike lane on each side of the road. No problems, even at intersections, where the bike lanes disappear, and I merged into the vehicular flow.
But as Woodland Road passes from Olathe into Lenexa, the bike lanes end, and the road becomes a four-lane street, with two lanes separated by a raised center island.

Just a quarter mile into Lenexa, a quarter mile after the bike lanes end, I get a pointer.
A woman in a car passes me, gesticulating aggressively, pointing towards the sidewalk. Her meaning was pretty clear: I belonged on the sidewalk, not the street.
Yeah, right. I smiled and waved, and she just pointed harder for a few seconds, scowling, before speeding off.
So was this just one misguided motorist, who believes that roads are only for cars? Probably.
But would it have even been an issue on a road with a bike lane? No.
Anecdotal evidence, but yeah, bike lanes do make a difference.
A difference in safety? Perhaps not. You could even argue that adding a bike lane just reinforces the prejudices of the motorists who are unwilling to share the road, who insist that bicycles and cars can't safely co-exist.
But whatever. I'll take 'em if I can get 'em. Bike lanes are appreciated.
Post tags: Bike Lanes