Last October, the Saline County Commission voted to add the first designated bike lanes in the county, just north of Salina along North Ohio Street, from Pacific Avenue to I-70, a distance of about 1.5 miles.
The new bike lanes have now been installed. Here's a first look at the new lanes, pavement markings, and signage: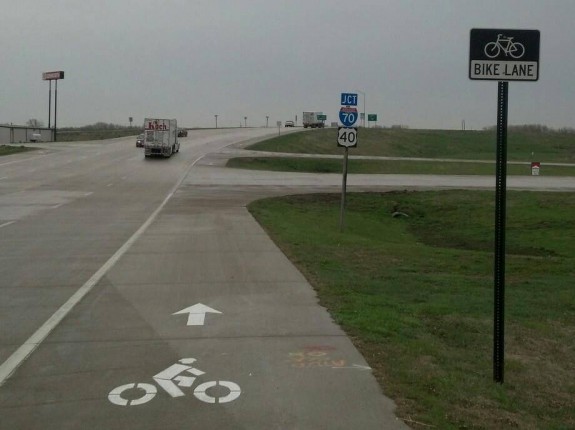 (Photo courtesy of Salina resident Mike Redmond. Thanks, Mike!)
What was previously a wide shoulder is now a designated bike lane, and hence, part of the roadway. As part of the roadway, the city and county will be responsible for maintaining the bike lanes, clearing them of snow and ice, and sweeping them of debris.
Within the city of Salina, there are currently narrow multi-use pathways being built along Pacific Avenue and Ohio south of Pacific, which can be used by bicyclists to connect to the new bike lanes. Bicyclists can also, of course, continue to use the roadways.
Learn more about the bike lanes.
Well done, Salina and Saline County. This is, hopefully, a first step towards a larger network of bike lanes and bike routes in the 10th-largest city in Kansas!
Post tags: Bike Lanes, NewsBlog, Salina