Today is day #16 of the 2012 30 Days Of Biking challenge: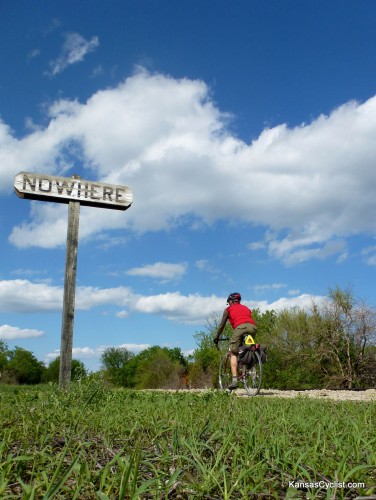 "Nowhere, Kansas" is located southwest of Baldwin City, along the lines of the Midland Railway, which runs an excursion train from Baldwin City to Ottawa Junction, Thursdays, Saturdays, Sundays, and Holidays, June through October.
The railroad tracks were laid in 1867 as the Leavenworth, Lawrence and Fort Gibson railroad, which was later known as the which later became the Leavenworth, Lawrence and Galveston Railroad (informally called the "Lazy, Lousy and Greasy"), was subsequently owned by the Atchison, Topeka and Santa Fe Railway, and was sold to Midland in 1987.
The location of the sign is on Montana Road just south of Woodson Road, in Franklin County, Kansas. The GPS coordinates are approximately 38.730895,-95.240816.
It's not clear whether "Nowhere" was an actual town or stop along the line, or if the name was made up in jest.
But apparently the locals have fun with it: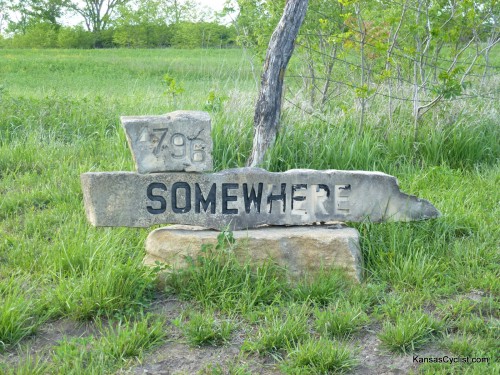 This stone marker is located across the road from Nowhere: "Somewhere".
Post tags: 30 Days Of Biking 2012