Last night, the city of Overland Park, Kansas held a Bike Forum, hosted by the city's Environmental Advisory Council at Overland Park City Hall.
Approximately 15-20 cyclists attended the bike forum, which included representatives from organizations such as BikeWalkKC, KanBikeWalk, and Kansas Cyclist.
The purpose of the forum was to allow the public to learn about and discuss bike-related issues, and to help move the city in a more bicycle-friendly direction. The forum included presentations from city staff:
An overview of Overland Park's new Complete Streets Resolution from City Traffic Engineer Brian Shields
A presentation on the city's Sustainability Planning efforts — including bicycle-related issues — from Planning & Development Services Director Doug Johnson
An update on Overland Park's plans for a multi-use trail along the Turkey Creek corridor (the city is not currently planning to add bike lanes to their approximately one-mile segment of Merriam Lane from Antioch to Metcalf).
An overview of Bike to Work Week activities in Overland Park, from Nico Cantarero. Mayor Carl Gerlach issued a proclamation designating the week of May 14-18 as Bike to Work Week in Overland Park. The city will provide an Information Booth at the Farmers' Market on May 12, free Breakfast Stops from 6:30 – 8:00 a.m. at various points in the city on Monday through Friday (see schedule), and "commuter displays" at City Hall, Matt Ross & Tomahawk Ridge community centers.
In addition to the presentations, there was a good deal of audience discussion about bicycle issues in the city, including:
A suggestion for a bicycle parking ordinance that would require retail, business, and housing developments to provide a minimum level of safe, secure, and convenient parking.
Why does the city prefer bike "trails" (multi-use pathways) rather than on-street bike lanes.
Is the city going to provide signage for recommended bicycle routes?
Are the "Share The Road" signs on 199th Street temporary or permanent?
Neighbors along Nall Avenue are opposing adding sidewalks and bike lanes.
Does the Complete Streets resolution have any "teeth" that will result in actual on-street bicycle transportation improvements (probably not).
Can to the city do any educational outreach to the community to improve bicycle/motorist cooperation?
See also: Overland Park Bicycle Routes Map and Overland Park Trail System Map
I didn't take any photos at the forum itself, but I rode to Overland Park City Hall for the forum, and parked my bicycle at the bike rack provided by the city: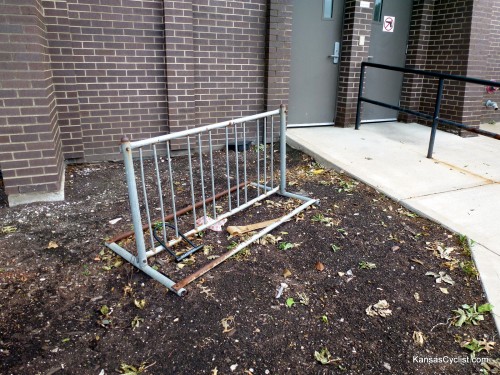 Overland Park City Hall provides a wheel-bender bike rack, far away from the entrance, in the dirt, rusted, not permanently secured (so that someone could steal the whole rack, along with any bicycles attached to it).
Contrast that to the bike racks at Olathe City Hall: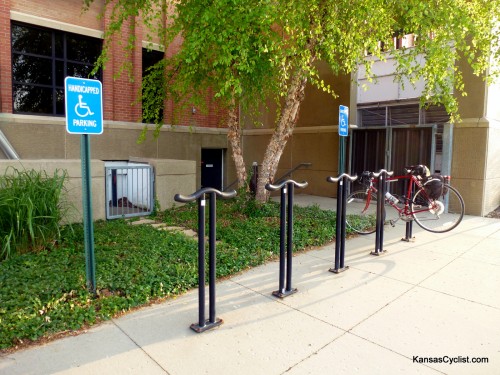 Olathe City Hall provides a set of five clean, well-maintained "Pi Racks" (though they are unfortunately situated so that they appear to be labeled "Handicapped Parking").
Overland Park is the 2nd-largest city in the state, with a population of about 173,000, and Olathe is the 5th-largest city in the state, with a population of about 126,000.
Those two photos say a great deal about how seriously each city takes bicycle transportation…
Post tags: Overland Park