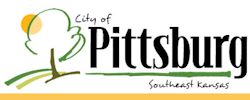 Cyclotourists traveling on the TransAmerica Bicycle Trail now have a safe and comfortable place to stay in Pittsburg, Kansas, thanks to volunteers and student workers, who've built a bathhouse and camping area for cross-country bicyclists.
Pittsburg is located in southeast Kansas, along the TransAmerica Bicycle Trail, a coast-to-coast route that many thousands of bicycle tourists travel each year.
While Pittsburg allows camping in Lincoln Park, the facilities have been limited, and there are occasional conflicts with other park users, due to the shared space.
According to the Joplin Globe, the city has decided to make some improvements to welcome the steady stream of bicyclists who pass through each year:
A pavilion and a shower-restroom building are being built this month by construction management and masonry students at Pittsburg State University, Pittsburg High School and Fort Scott Community College.

The pavilion and restroom are situated at the south edge of the city-owned RV Park, north of Four Oaks Golf Course on 20th Street.

The shower-restroom building also will include a station at which cyclists may wash off their bicycles, do repair work and fill tires with air. The nearby pavilion will include bench seating and electrical outlets so cyclists can charge cellphones, cameras and laptops. Between the two structures is a grassy area flanked on the south side by trees and vegetation, which will make a great camping spot, Vogel said.

Roger Lomshek, owner of the local bicycle shop Tailwind Cyclists, said the project will make Pittsburg even more cyclist-friendly.

"Maps are published by Adventure Cycling Association for cyclists that are kind of like the Yellow Pages, that highlight towns with amenities that are important to cross-country travel," Lomshek said.

He said the shower-restroom and pavilion will be a plus in Pittsburg's column.

"This is very forward-thinking," he said. "There is nothing like this around here — or anywhere else for that matter, except for perhaps bigger metro areas like Seattle." [read more]
Pittsburg is located approximately halfway across the country, and serves as an important destination for both east-bound and west-bound travelers, coming after the long stretch of the great plains heading east, or the endless ups-and-downs of the Missouri Ozarks going west: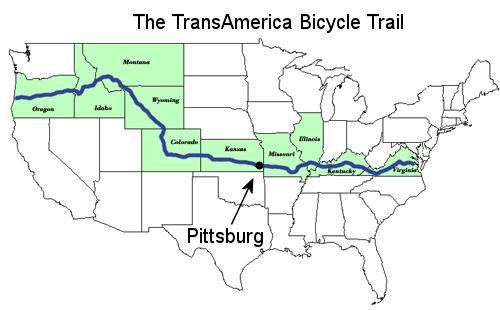 Both cyclists and their bikes are often in need of a break by the time they reach Pittsburg, and with the presence of the local bike shop to handle their bike servicing and gear needs, many riders take a rest day (or two) in the community before continuing their journey.
The steady influx of cyclotourists provides a boost for the local economy, and the welcoming attitude creates a nice impression as cyclists enter or leave the state
It's wonderful to see a city recognize and embrace long-distance bicycle travelers. Well done, Pittsburg!
See additional coverage from FourStatesHomepage, KOAM, and the Kansas City Star.