The specter of a bicycle ban is rearing its ugly head in Missouri, again, with a state representative planning to introduce a bill to ban bicycle from some state highways.
From the Missouri Bicycle and Pedestrian Federation:
During our visit to Jefferson City this week, we were able to confirm one bit of bad news: Rep. Rick Brattin, Harrisonville, definitely is planning to introduce a bill to ban bicycling on (some?) state roads.

Rep. Brattin appeared on local TV news earlier in January, complaining about bicyclists on the newly completed Highway 150, which runs through portions of Kansas City, Grandview, and Lee's Summit, near the northern edge of Brattin's district.

Rep. Brattin is now working on creating a bill to ban bicyclists from certain roads in Missouri, based on his belief that bicyclists should not be allowed on roads like Highway 150.

We are expecting that bill to be drafted and introduced soon.

So stay tuned–obviously, we vigorously oppose this effort to ban bicycles from Missouri roads. We will keep you informed as this situation develops and we will need your help to carry this message to our Missouri legislators and decision-makers.
Crazy.
Since I live not far from the Missouri state line, I rode to check out Missouri State Highway 150 near Grandview. Here's what I found: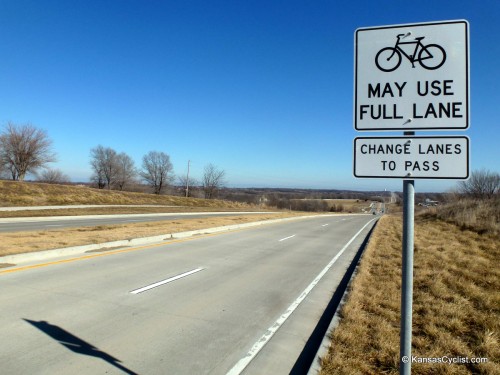 MO-150 has been rebuilt since I last passed through that way, and is now a four-lane road (two lanes in each direction) with no shoulders, and a narrow concrete gutter pan along each outer edge.
The road is signed for a 45 MPH speed limit, and "Bikes May Use Full Lane, Change Lanes To Pass" signs remind motorists that bicyclists have the right to an entire lane, since the lanes are too narrow for a bicycle and motor vehicle to safely travel side-by-side within a single lane.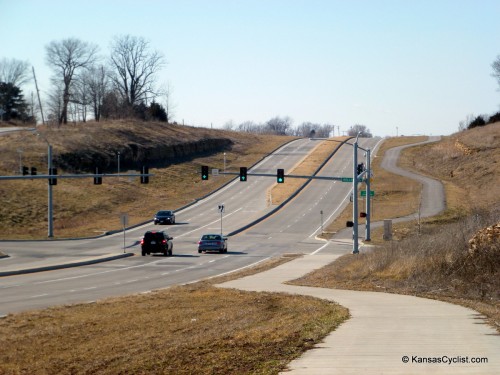 There is a sidepath along one side of the highway, with stops every half mile or so to cross side roads. Each crossing is either signed with a "Stop" sign, or has a pedestrian crossing signal. The signalized crossings did not recognize me waiting for the light, and so I had to press the "push to walk" switch at each intersection.
The sidepath itself is concrete and asphalt. It does tend to meander for no obvious reason, and I encountered trash, rocks, and mud on various portions of the sidepath.
But really, the sidepath itself was fine; it's just that the stops at each intersection were rather annoying, knowing that if I were riding on the roadway I wouldn't be forced to stop so often for no reason. Safety on the sidepath itself is good, but each intersection brings danger, especially if a cyclist is riding in a contraflow direction (opposite the direction of traffic on the roadway).
On the side of the highway with no sidepath, I chose to ride in the road. I positioned myself about 1/3 of the way into the lane. Overtaking traffic passed me with no issues, and there was no honking, revving, or otherwise childish behavior observed.
(Note that the perspective of this photo exaggerates the width of the gutter pan; it's not wide enough to safely travel at speed with adjacent passing traffic.)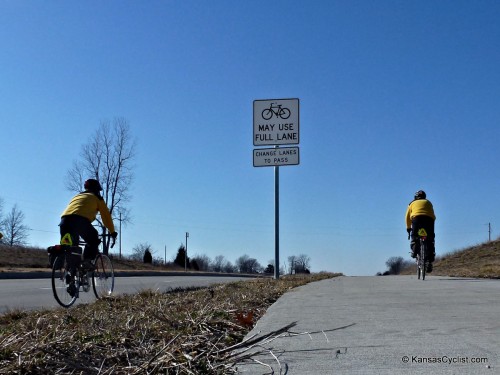 I created this last image (as a composite of two photos), showing that bicyclists have a choice — they may choose to ride on the road, or they may choose the sidepath.
Either choice is entirely legal, appropriate, and valid. It's all up to the rider's judgement of his or her own safety under the current conditions.
While I was on MO-150, I observed several individual bicyclists using the roadway, and none using the trail (though I saw tire tracks in the mud on the trail).
If you're interested in this issue, please follow MoBikeFed on their web site, Facebook Page, or Twitter Feed to keep up-to-date on this developing situation.
Post tags: NewsBlog