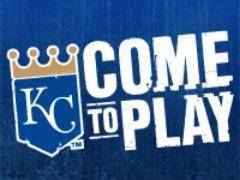 Two years ago I took a look at options for Bicycle Parking at Kauffman Stadium in Kansas City, Missouri, and was told by the team that "we do not have bike racks or areas where you can lock your bike". Further, the policy was that "any bicycles locked to a tree, fence, railing or other fixture will have their locks cut, and the bike will be impounded. A $10 parking fee applies to get into the sports complex."
The Royals recently contacted me via their official Twitter account (@Royals) to let me know that the bicycle parking policy has changed at Kauffman Stadium:
"Bikes are permitted during Royals games. Ride over to Lot B to lock up your bike on the media fence. No charge. We checked with our parking/fan experience group and that is the current policy."
Unfortunately, it doesn't sound like there are any official bike racks or other secured facilities provided. The parking page on the team's web site doesn't show the new policy, and indeed makes no mention of bicycles at all.
So apparently it's an official policy, but one they are not keen to publicize, for whatever reason.
Still, this is good news. You can now ride your bicycle to a Kansas City Royals game, and can park it onsite, at no cost and without risking impoundment.
Thank you, Royals!
Hopefully, they're considering investing in some actual bicycle racks or other facilities that would allow their fans to ride to the game and park their bicycles securely and safely. That would be a smart move!
Post tags: Bike Racks, NewsBlog