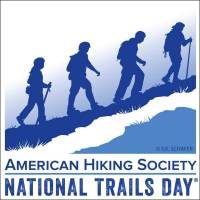 June 1st, 2013 is National Trails Day, and there are a number of special events taking place in Kansas, as well as across the nation.
According to the American Hiking Society:
"National Trails Day events involve a broad array of activities, including hiking, dog walking, bike riding, trail maintenance, birding, wildlife photography, geocaching, paddle trips, trail running, trail dedications, health-focused programs, and children's activities."
You can search for events at AmericanHiking.org.
National Trails Day Events in the Greater Kansas City Region
The Greater Kansas City region will celebrate National Trails Day this coming weekend, with events and festivities in communities in both Kansas and Missouri, throughout the seven-county region.
via the Mid-America Regional Council:
Communities around the Greater Kansas City region will celebrate National Trails Day 2013 on Saturday, June 1, bringing together outdoor enthusiasts of all kinds to celebrate the natural heritage of the United States trail system. Traditionally held each year on the first Saturday in June, National Trails Day was established to recognize the value of recreational trails and the people involved in building and maintaining them.

Local cities and municipalities mark National Trails Day by holding public events such as walking and biking activities, trail openings, family entertainment and educational seminars.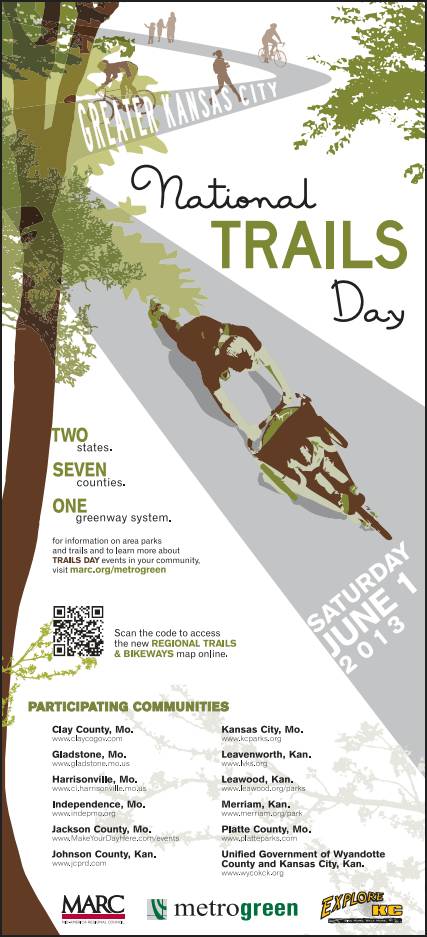 Events on the Kansas side of the metro include:
— Leavenworth: Three-mile Trail Walk & National Trails Day Celebration — "To celebrate National Trails Day, the community will join together for a three-mile walk starting at Sportsfield trailhead. The walking will be lighter-paced, beginning on the 8-foot paved trail at Sportsfield and continuing on to the wooded trails at Havens Park. The walk begins at 20th and Ottawa streets at 8 a.m." [more info]
— Leawood: Leawood Parks and Recreation — "Leawood Parks and Recreation invites National Trails Day participants out to Ironwoods Park to enjoy the scenic trails and Prairie Oak Nature Center. Guests are encouraged to come out to enjoy Ironwoods Park trails, stop in at the Nature Center for information and freebies." [more info]
— Merriam: National Trails Day Roll, Stroll and Wag — "'Roll' (ride your bike) or 'Stroll' (walk or jog) along the Turkey Creek Streamway Trail as we celebration National Trails Day in Merriam! Both north and south routes available. Plus shop the Merriam Farmers' Market at the Marketplace with fresh produce and FREE entertainment (7:00 AM to 1:00 PM)."
— Shawnee: Shawnee Mission Park and Mill Creek – A Day in the Park — "Johnson County Park & Recreation District will host a free, day-long celebration of the county's trails, parks and recreational spaces on National Trails Day. There will be a variety of special activities for the entire family throughout Shawnee Mission Park and along the adjoining trail in Mill Creek Streamway Park."
National Trails Day Events Elsewhere in Kansas
— Andover: Redbud Trail Workday — "The Andover-Augusta RailTrail Initiative is holding a Redbud Trail workday on June 1st, 8am to noon, in Andover. They're planning to pick up trash, pull weeds, trim trees, and haul brush."
— Newton: Walk Sand Creek Trail Day — "Sand Creek Trail Committee is hosting a "Walk Sand Creek Trail Day" to celebrate the second anniverary of being named a National Recreation Trail. Community members are encouraged to come walk the trail from dawn to dusk. Water will be provided at trailhead for walkers."
— Overbrook: Landon Nature Trail Bike Ride — "Come ride or hike a new section of the Landon Nature Trail at Overbrook, Kansas."
— Manhattan: Tuttle Creek State Park Guided Hike — "The State Park in honor of National Trails Day will host a guided hike. This will be a guided hike by a Park Ranger or volunteer. Opportunity to see some wildlife, hear about history of area."
— Toronto: Fall River State Park National Trails Day — "Celebrate National Trails Day by hiking or mountain biking one of seven trails at Fall River. Or check out the new Badger Creek Trail just recently completed by the Kansas Trails Council, it's connected to our Bluestem Trail located in the Quarry Bay Area. Insect repellent, water, and sunscreen are recommended. Check with the office for a guided hike."