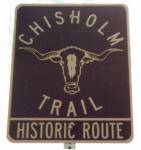 From 1867-1887 over 5 million head of cattle traveled up the Chisholm Trail from Texas to the railroads in the cattle towns of Kansas, including Abilene, Newton, Wichita, and Caldwell.
The Chisholm Trail was called "the greatest migration of livestock in world history".
Recently, Oklahoma Governor Mary Fallin signed HB1257 into law, establishing the "Historic Chisholm Trail Bike Route":
State Highway 81 from the Kansas border to the Texas border shall be designated as the "Historic Chisholm. Trail Bike Route". The cost associated with signage required by this section shall be provided from private sources and shall include the cost of the initial erection of signs as well as the cost of potential replacement or reconstruction of signs. Upon receiving adequate funding from private sources and after a shoulder lane has been provided, the Department of Transportation shall cause suitable permanent markers to be placed upon the highway bearing that name. Contingent upon the availability of funds, the Department shall provide a shoulder lane designated for use by bicycle traffic on the Historic Chisholm Trail Bike Route. This act shall become effective November 1, 2013.
Although there is currently no "official" Chisholm Trail Bicycle Route in Kansas, you can follow the approximate route by taking US-81 north from the Oklahoma state line to Caldwell, then on various state and federal highways through Wellington, Wichita, Newton, Hillsboro, and Abilene.
You can learn more from the Kansas Chisholm Trail Bicycle Route Guide.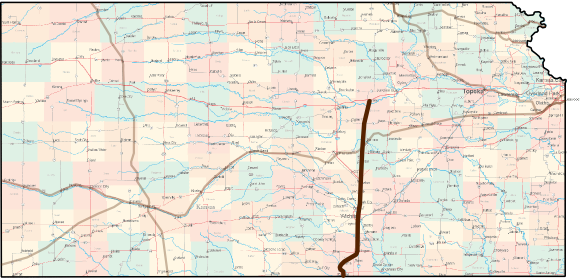 Hopefully Kansas will continue the trend and establish an official Chisholm Trail Bike Route in the Sunflower State!
Oklahoma US Bicycle Route 66 Setback
In related activity in the Oklahoma Legislature, SJR13, which would have designated Route 66 as "Oklahoma's Official Bicycle Route" and would have directed the Oklahoma Department of Transportation to apply to add Route 66 to the US Bicycle Route system, died in the House Tourism committee, after being passed by the full senate on a 40-5 vote, and receiving a "do pass" recommendation from the Transportation committee.
Despite the legislative setback, Oklahoma already has more rideable miles on Route 66 than any other state, and continues work to get more communities to get on board with the effort.
Kansas, despite having only 13 miles of Route 66 in the state, is still in the early stages of establishing Route 66 as an official US Bicycle Route.
See also: Bicycling the Route 66 Historic Byway in Kansas
Post tags: NewsBlog