The web site "Race Shape" provides a Global Heatmap that shows bicycling activity all over the world.
I thought it'd be interesting to use this as a "snapshot" of where Kansas stands, both in terms of activity within the state, and within the nation:
The Kansas heatmap shows activity centered around the largest populations — the Kansas City area, Lawrence, Topeka, and Wichita, plus hotspots in Manhattan / Junction City, Leavenworth, Salina, Emporia, and Hays. Great Bend, Hutchinson, Newton, Pittsburg, and Winfield have a spark as well, as do things like the Prairie Spirit Trail and Wilson Lake. But large swaths of the state have little to no activity shown.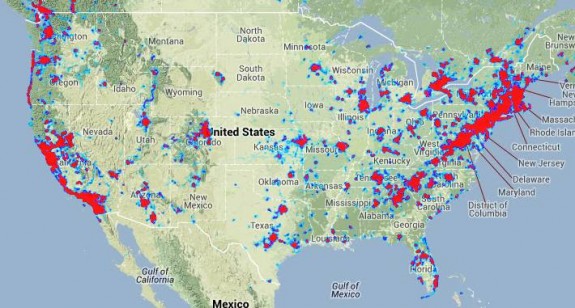 The USA heatmap shows a lot of activity on the coasts, as well as hot spots here and there throughout the country. Within the region, Kansas doesn't look too bad, with more activity than Arkansas, Iowa, Nebraska, and Oklahoma, but less than Colorado and Missouri.
Note that the activity shown on these maps is not comprehensive. In order to appear on this map, ride data must be logged via Strava, must contain at least one "segment", and the segment must be loaded into Race Shape.
Data from services such as Endomondo, MapMyRide, Garmin Connect, RideWithGPS, etc. is not included. And Strava rides that don't contain segments, or contain segments that are not RaceShaped, are not shown.
And, of course, rides from folks that don't use GPS cyclocomputers or smartphones are not included either. I'm guessing (and I have no data to back this up) that only 1-2% of the rides in the nation are shown, at most.
So there's a lot of data missing, and some types of riding (i.e. road riding) may be over-represented, since that's the demographic that Strava seems to appeal most strongly to. Mountain biking, trail riding, and commuting are types of bicycling that are perhaps under-represented.
Still, it's interesting, isn't it?
And it'll be fascinating to see how these maps change over time. I expect I'll check in periodically, to update the map and see how things have progressed…
If you want to ensure that your rides end up on this heat map, you need to:
Either run the Strava app on your smartphone, or use a GPS cyclocomputer and upload your data to the Strava web site; and
Ensure that each of your rides has at least one "segment" (segments can be defined via the Strava web site); and
Ensure that the segment is loaded into RaceShape (to do that, either post it manually at ReaceShape.com, or view the Global Heatmap, click "Show Nearby Segments", find your segment, click it, and select "View the Race Shape").
Note that defining the segment and loading it into RaceShape only needs to happen once; after that, your rides will flow into the heatmap automatically.