Here's a fun route that my friend, Lori, and I rode this past weekend. It features a nice slice of southeastern Kansas, with lots of farmland, some history, small town atmosphere, and a few rolling hills to keep things interesting and a bit challenging.
The route begins in Moran, travels north on US-59 highway trough Mildred, to Kincaid, east to Blue Mound and then Mound City on K-31 and K-52, then south on K-7, and west on K-65 through Mapleton and Xenia, then south on K-3 to Bronson, before looping back to Moran, for a total of about 72 miles.
The entire route is on paved two-lane secondary roads, and all were quiet with very little traffic on a Saturday. The weather was a bit nippy, starting in the upper 40's and ending in the mid 60's, with a steady wind from the east of about 10 MPH.
In all, we were out for about 8 hours, 5 of those riding, and 3 hours of exploring old ruins, enjoying local cuisine, watching a tractor pull, reading headstones, taking pictures of wildflowers, and otherwise slacking off. A beautiful day to be on a bike, for sure!
Here's the route map (view an interactive map, along with cue sheets and a GPX track that you can download to a GPS device, at RideWithGPS):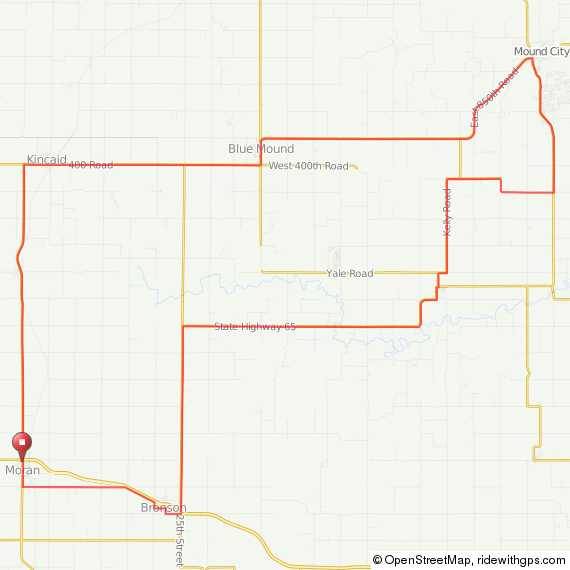 The route is about 72 miles, as mapped, but we did some exploring in the small towns along the way, so we ended up with nearly 75 miles altogether.
Here are some photos from the ride: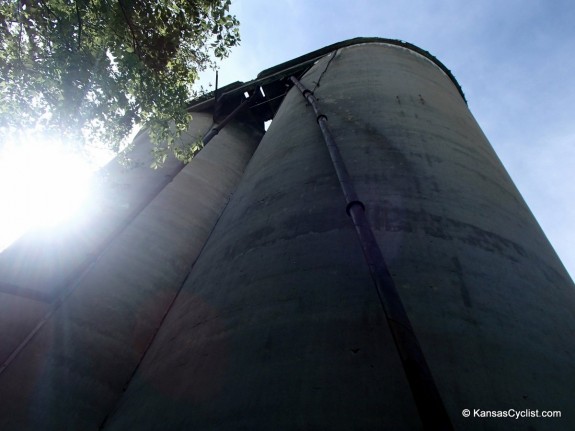 The old Portland cement plant in Mildred, Kansas once employed 350 people, and helped build Mildred into a bustling town of 2000 people in the early 1900s. But the closure of the Great Western Cement Company plant in the 1930s effectively meant the end of the company town, which is now down to just a few houses and less than 30 people.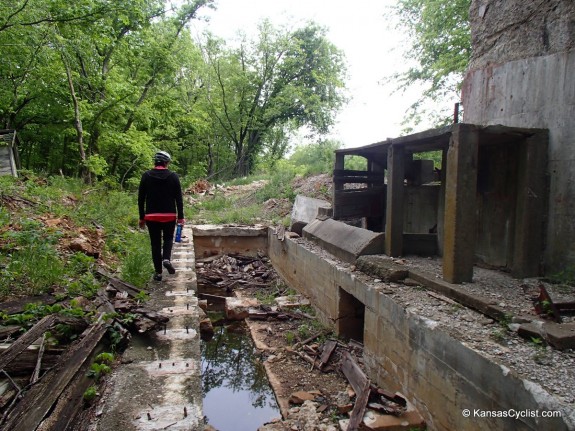 In addition to the large silos along the road, there's a large area of ruins behind, including this pit, over which a railroad line once passed, bringing supplies to the factory.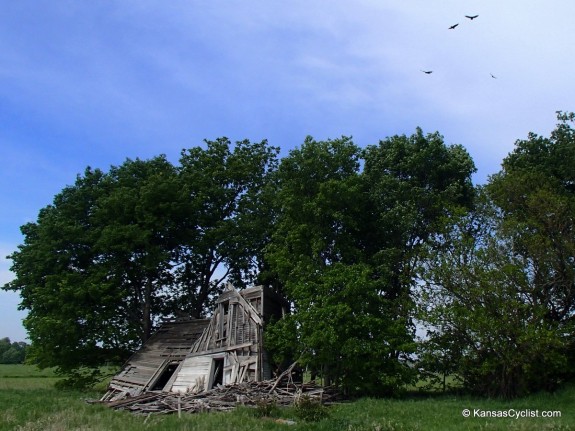 This old tumbledown farmhouse is still standing, if barely. With the turkey vultures soaring overhead, it seemed as if they were hungry to be picking at its bones.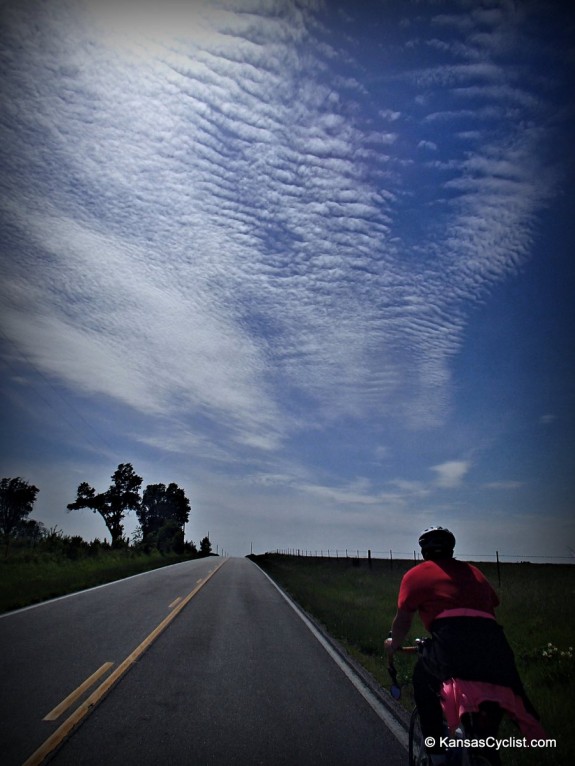 Blue skies and blacktop roads were the order of the day. It's not difficult to have your soul stirred by the vastness and beauty of the natural world on a ride such as this.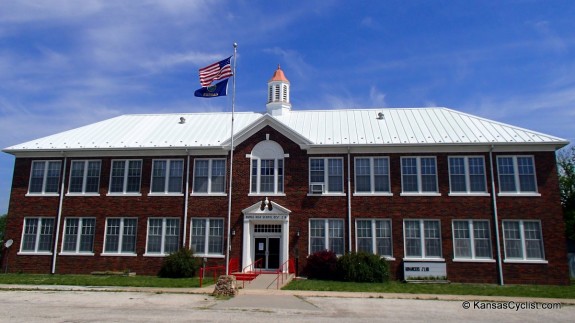 This was Rural High School District 2 in Kincaid, Kansas. The high school closed many years ago, but the beautiful old building was saved, and is now used as city hall and a community center.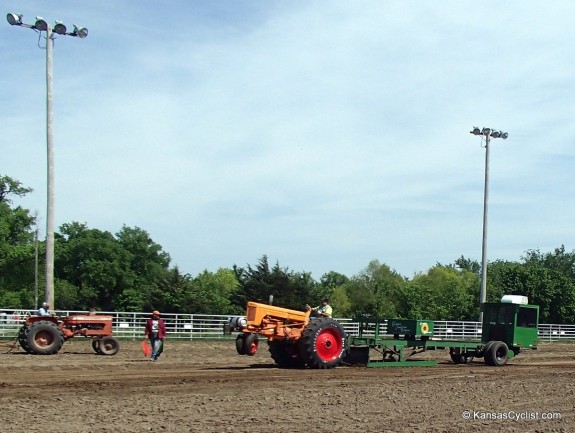 In Mapleton, we stumbled across a tractor pull in progress, so we hung around for awhile watching them go at it. It was fun seeing the old tractors, many over 75 years old, cranking out the horsepower.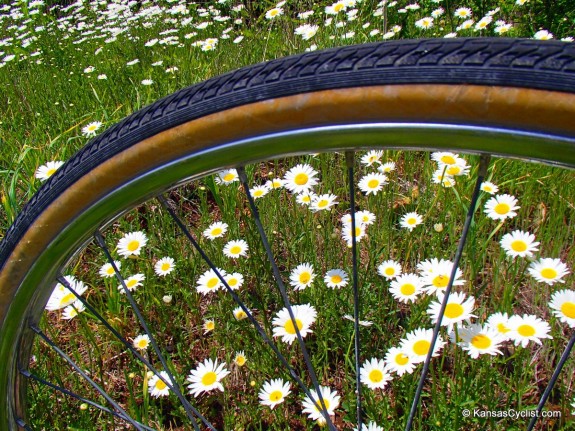 Roadside daisies framed by my bicycle wheel. So many lovely wildflowers along the route!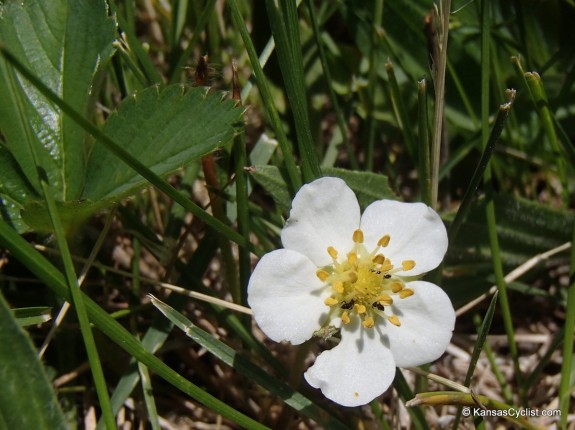 Wild Strawberries were blossoming in one cemetery we visited.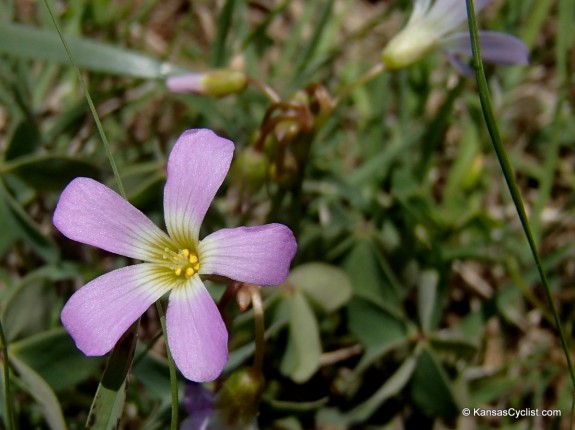 I haven't identified this small purple flower, but it's pretty and delicate…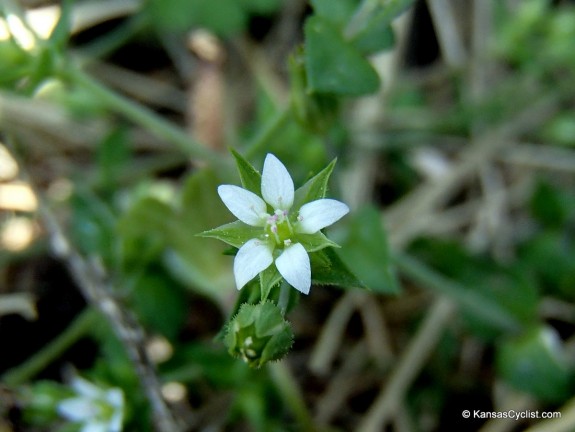 This is a Thyme-Leaf Sandwort. The blossom is extremely tiny, just a few millimeters in diameter.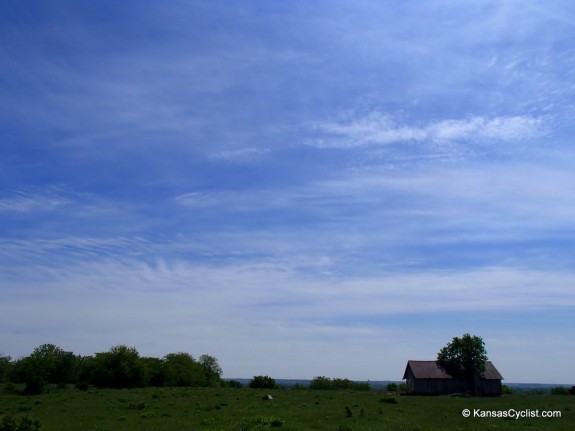 Blue skies and wispy clouds over a rural landscape, on a high point northeast of Mapleton.
All in all, both Lori and I thought this was an excellent route, worthy of sharing. If you enjoy riding on quiet country roads, with a variety of scenery, and a bit of challenge, you'll enjoy this route.
There are opportunities to buy food and drink in Moran, Blue Mound, Mound City, and Mapleton. We ate lunch at the Feedlot Cafe in Blue Mound — good inexpensive country diner food! There are currently no services (except perhaps pop machines) in Mildred, Kincaid, Xenia, or Bronson.
If you wanted to try this route, but would like a bit less mileage, you can take County Road 1077 south from Blue Mound, and Yale Road east to Mapleton, for a total distance of about 57 miles. Or, you could park in Mound City, and ride through Mapleton and Blue Mound, for about 40 miles. There are a number of routing options to customize your mileage along this route. Even if you're planning to do the whole distance, Mound City would make a good starting point for those coming from the north or east.
Wherever you live, get out and enjoy some of the great low-traffic rural roads and rugged country we have here in Kansas. There's great routes to be found throughout the state … discover yours!
Post tags: Blue Mound, Bronson, DirtBum, Kincaid, Mapleton, Mildred, Moran, Mound City