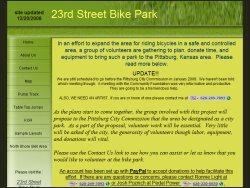 The 23rd Street Trails are a local tradition in Pittsburg, Kansas. The trails are located on the site of an abandoned coal mine, so the terrain is rough and rolling, with lots of jumps, tight turns, and small hills. The site is overgrown with brush and weeds in places, so the greenery can be quite dense, particularly in the summer. There are also large open area with some nice jumps that local BMX riders practice on. In all, there are about two miles of trails here.
To get to the trails, go east from North Broadway on 23rd Street, past Michigan Avenue. The trails are located on the north side of 23rd, just before the railroad tracks.
Note: In 2009, the 23rd Street Trails were transformed from an informal site to an official city park, and is now known as the 23rd Street Bike Park.
Sorry, but this listing is not currently active;
info shown is the last known data...