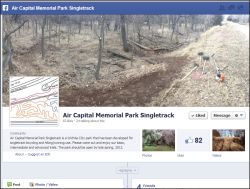 Air Capital Memorial Park is a city park in Wichita, Kansas that has been developed for singletrack bicycling and hiking/running use. The small park acquired in 1966 is now part of Pawnee Prairie Park. The site was formerly used to display a B-47 Stratojet that had been manufactured in Wichita in 1956, and upon its decommission from active service, was donated to the City of Wichita in 1965 and subsequently erected on a pedestal in 1969.
There are about 2 miles of singletrack trail, with about a half mile of that being beginner-friendly, and the rest consisting of intermediate and advanced trails.
Air Capital Memorial Park is located at 9501 W Kellogg Dr, Wichita KS 67209.
Air Capital Memorial Park was built and is maintained by volunteers from Kansas Singletrack Society and Lee's Bike Shop.