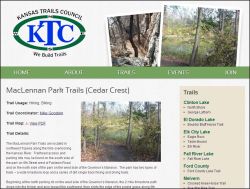 MacLennan Park is a 244-acre wildlife refuge and park located in Topeka, Kansas, situated along the hills overlooking the Kansas River, near the Governor's mansion, which is known as "Cedar Crest". The park features woodlands, wide-open meadows and a natural setting that make a spectacular backdrop for native Kansas birds and animals. The park features an interpretive nature trail, native wildlife, native prairie plantings, wildflower plantings, three fishing ponds, an ice skating pond and jogging/bike trails.
The park has two types of bike trails - a wide limestone loop and a series of dirt singletrack.
The 2.7-mile limestone trail begins at the north parking lot on the west side of the Governor's Mansion, then drops into the timber and arcs toward the southwest, skirting the edge of the prairie grass along 6th Street on the south and Fairlawn Road on the east, then turns to the west along Cedar Crest Drive where it rejoins the parking lot on the west side of the Governor's Mansion. The limestone path may also be accessed from the south parking lot located on 6th Street just west of Fairlawn Road.
There are three mountain bike trails in the park. The "red" trail runs for about 1.8 miles through the heavy woods at the north end of the park. The 1.4-mile "blue" trail winds through the trees on the western end of the property, and the 0.7-mile "green" trail skirts the border between the trees and grassland, the crosses the dam of a small pond before joining the blue trail. There are also numerous connector trails between the established routes. The terrain varies from woods to grass, with some sections of wide double track, some tight singletrack, some rollers, and some rocky trail as well.
The MacLennan Park trails were built and are maintained by volunteers from the Kansas Trails Council.