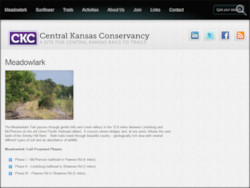 The Meadowlark Trail is a 13-mile rail-trail conversion connecting the towns of Lindsborg and McPherson, in central Kansas. The trail curves through pastures, farmland, gently rolling hills and creek valleys, following a portion of the Smoky Hill River, and crossing 11 bridges. It will connect with Lindsborg's ValkommenTrail just south of Lindsborg near the Old Mill Museum.
Currently, about five miles of the trail are completed. The first mile within McPherson is known as the "Sunset Walk". To the immediate north of McPherson, a 4-mile segment from the McPherson trailhead to Pawnee Road, is also complete. Phase II is a 3-mile segment planned from the Lindsborg trailhead south to Shawnee Road. Phase III will be the final 5-mile segment, from Pawnee Road to Shawnee Road.
The Meadowlark Trail is being developed and maintained by the Central Kansas Conservancy.