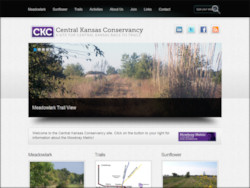 The Central Kansas Conservancy is a non-profit organization whose mission is to promote the appreciation of Central Kansas, including its unique natural landscape, wildlife, history and culture, and to encourage health and wellness by providing people of all ages a great place to walk, jog, bicycle and horseback ride safely away from traffic. They also seek to provide opportunity for economic growth in the communities along the trails, and foster local control of resources and deal effectively with concerns of local people.
When the Union Pacific Railroad between Lindsborg and McPherson, and the Santa Fe Railroad between McPherson and Marion were taken out of service, the Central Kansas Conservancy railbanked the lines with the idea of developing them into recreational trails, or linear parks, for nature lovers, hikers, cyclists & horseback riders.
The Central Kansas Conservancy is developing the old railways into two trails in central Kansas, the Meadowlark Trail and the Sunflower Santa Fe Trail.