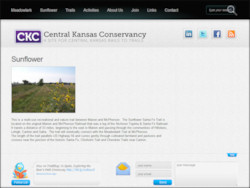 The Sunflower Santa Fe Trail is a 33-mile rail-trail conversion connecting the towns of Marion and McPherson, in central Kansas. The trail passes through the towns of Galva, Canton, Lehigh and Hillsboro, and rolls through pastures, farmland and gentle hills. It crosses both the historic Santa Fe Trail and the Chisholm Trail near Canton, and crosses the Prairie Trail Scenic Byway at Canton.
Currently only the first phase of the trail - from Galva to Canton (6 miles) - has been scheduled; the development of the the other segments of the trail will be determined at a later date.
The Sunflower Santa Fe Trail is being developed and maintained by the Central Kansas Conservancy.