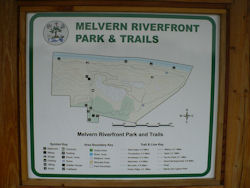 Melvern Riverfront Park and Trails in Melvern, Kansas features several miles of trails along the Marais des Cygnes River.
The River Trail loop is a 6-foot wide multiuse trail surfaced in crushed limestone, and is about 0.8 miles long. The remainder of the trails are singletrack open to walking, hiking and mountain biking. The trails wind through hardwood forest, rocky scrub brush, and open upland prairie. The trails also wind in and around an old quarry that is now a wetland supporting a rich variety of plants and animals.
The trails were built with help from a student-volunteer group called Kansas Corps, plus support from the Kansas Trails Council and other community groups. In addition to promoting fitness, the trails are being utilized as outdoor classrooms for the community and school districts in the surrounding area.