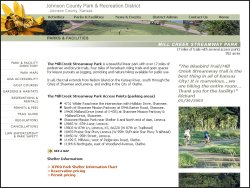 The Mill Creek Streamway Park is a beautiful linear park in Johnson County, Kansas with over 17 miles of pedestrian and bicycle trails, four miles of horseback riding trails and open spaces for leisure pursuits as jogging, picnicking and nature hiking available for public use. In all, the trail extends from Nelson Island on the Kansas River, south through the Cities of Shawnee and Lenexa, and ending in the City of Olathe. This trail is also known as the "Gary L. Haller Trail", named for the retired director of the Johnson County Park & Recreation District.
The Mill Creek Streamway is a paved, multi-use trail that is popular with Kansas City-area cyclists and runners. It follows the course of historic Mill Creek through meadows and woods, passing seamlessly over and under crossing streets and roads to minimize traffic interaction. Since the trail follows the creek, it is mostly flat, with a few short but steep hills in the Olathe section, and a longer climb north of Shawnee Mission Park. Access points offer restrooms and water fountains.
You can access the trail at a number of points along its length:
4731 Wilder Road, Shawnee
5946 Barker Road, Shawnee
19405 Midland Drive, Shawnee
Shawnee Mission Park, Lenexa
19865 W. 87th Lane, Lenexa
18459 Prairie Star Pkwy, Lenexa
18450 W. 95th Street, Lenexa
11499 S. Millview, Olathe
119th & Northgate, Olathe
The Shawnee Mission Park access point connects to the mountain bike trails and roads within the park.