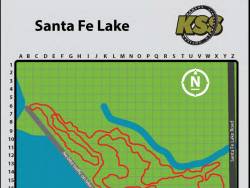 Santa Fe Lake is located about 22 miles east of Wichita, just west of Augusta, Kansas, in the southern Flint Hills. The 200-acre lake offers fishing, boat rentals, primitive camping, and miles of trails in the beautiful scenery surrounding the lake.
Santa Fe Lake offers year-round mountain bike trails. There are about 1.8 miles of trails for all skill levels from beginners to experts. The trails are located in the creek area below the lake's spillway, and loop and criss-cross through the woods and grass. There are a few big climbs and descents, as well as some tight corners and lots of rocks and roots. Competitive mountain bike races have been held on the trails.
The Santa Fe Lake trails are maintained by the Kansas Singletrack Society. There is a $5.00 per vehicle daily recreation fee.